FM 102/1's Michelle Rutkowski Talks MKE Independent Venues and #SaveOurStages Radiothon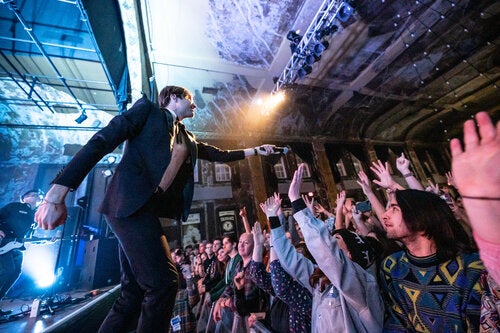 Last weekend, FM 102/1 did a really cool thing. They held a good 'ol fashioned 24-hour Radiothon in support of the National Independent Venue Association (NIVA) and the venues in Milwaukee that have had to go dark since the pandemic onset on March 13 - Pabst/Riverside/Turner/Back Room, The Rave/Eagles Club, The Cooperage, Shank Hall and the Cactus Club. FM 102/1 has always been an amazing promotional and business partner of Milwaukee's local venues and, since the shut down, the station has also become even fiercer of an ally; defending the important role independent venues play in Milwaukee's economy and fighting for their survival.
Through donations and their sweet-ass silent auction, FM 102/1 raised over $25,000 during the Radiothon (!!). It was so successful, in fact, that they've decided to extend the silent auction through THIS SUNDAY AT 5:00 PM. There is vinyl, signed posters, reduced prices on super cool stuff…and much more that supports the local venues you love. Everything is amazing and we are so thankful.
Added bonus…Program Director Michelle Rutkowski talked to us about the Radiothon's success, why it's so important to fight for MKE's independent venues and some of her favorite shows at our venues.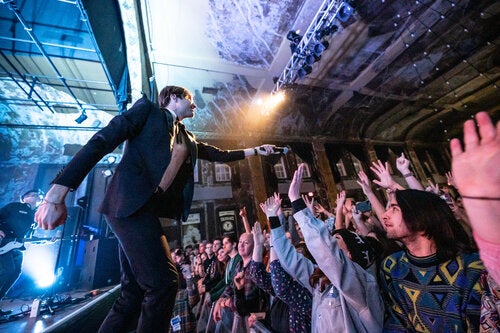 Saint Motel played at Turner Hall on 2/28/20, one of the last live shows in our venues before the pandemic.
Photo Credit: Will Hughes
PTG:
The idea for the Radiothon was obviously a great one. Why was this a passion project for the station?
MR:
The idea was really born out of the fact that I have not gone this long without seeing a show since I was probably in high school. Even then, this would have been a big dry spell. Paying attention to what was happening to independent venues around the country when the pandemic hit, learning about NIVA and knowing what it takes to put on a concert and how many people are affected…it just hit me. I'm OK with wearing a mask to the grocery store. I'm OK with picking up take-out instead of dining in at restaurants. But, I am not OK with not seeing live music in local venues. This was my way of venting some of that frustration while pouring it into a positive channel to raise some money and awareness. As a station, it felt like an action we could take to make a difference. We know live music, we know Milwaukee, this is where we make our impact.
PTG:
If independent venues in Milwaukee would have to close, how would that change Milwaukee's landscape and music scene?
MR:
In addition to the fact that it would make Milwaukee a lot less vibrant, I don't think the average consumer realizes that supporting smaller bands on smaller stages in crucial to getting the really big bands on arena and festival tours. If we don't have a stage to host a tiny burgeoning band (like, oh, I don't know, Imagine Dragons or The Killers), they aren't going to include Milwaukee as a tour stop when they get really big. Independent promoters are also different in regard to the hospitality and personal experience they're able to offer artists. At smaller venues, artists don't walk into a sterile environment where it's like, "here's a bottle of water now get up on stage." Independent venues offer a welcoming experience and the opportunity to nurture the careers of up-and-coming artists and that makes them want to come back. It's all interconnected. Without venues like yours, I don't know that Milwaukee will be able to attract the same level of bands and talent that we've gotten used to.
PTG:
Why is it important for FM 102/1 and other stations to keep these venues open?

MR:
When I find a song and I love it or discover a new band, the first thing I'm thinking of is how are we going to get this band to Milwaukee so that we can get them in front of an audience and get people to care about them as much as the station cares about them. It's extremely important to be able to connect my audience at FM 102/1 with the artist in person so that it's not just a song on the radio, its an experience. When we're able to offer our listeners backstage passes or little acoustic soundcheck sessions ahead of shows, it connects our listener to the artist and our community. It all works together.
PTG:
What are some of your favorite shows that you've seen in our venues?

MR:
I think about the last week of shows that I saw prior to the shut down a lot, and think of those shows fondly, because they're the last live music experience I'm going to have for a while.
The last show that I saw before everything was shut down was Saint Motel at Turner Hall. Which is a great memory to fall back on because Saint Motel is such a fun, good-timey band. Prior to that I saw Ben Folds with the Milwaukee Symphony Orchestra at the Riverside and that one was really special to me. He adlibbed a song out of nothing with the MSO then ended the show with "The Luckiest" and I cried. Then there was the time I saw Regina Spektor at the Pabst in 2017, shortly after Tom Petty passed away, and she did a cover of "Yer So Bad" which is one of my favorite Tom Petty songs. I absolutely love Turner Hall and remember seeing They Might Be Giants there multiple times and the great shows they always put on (drawing attention to the slanted stage during one specially). I could go on and on…you better cut me off.
Sara is the PR Director and when she isn't doing media things she likes going to shows (duh), taking care of plants and pets, drinking beer and writing…now for the Green Room!