Food Friday: Linzer Cookies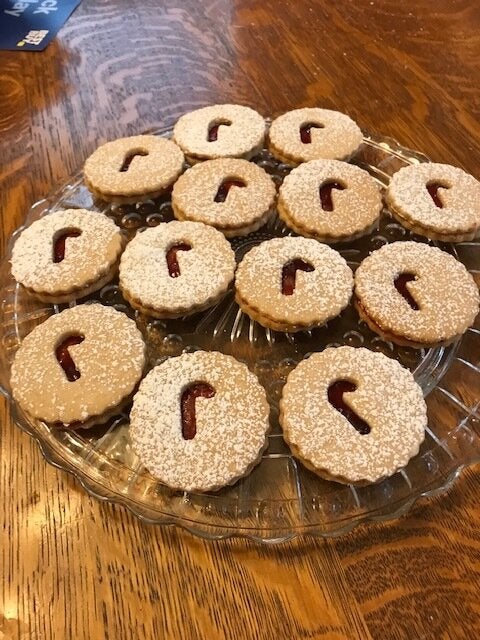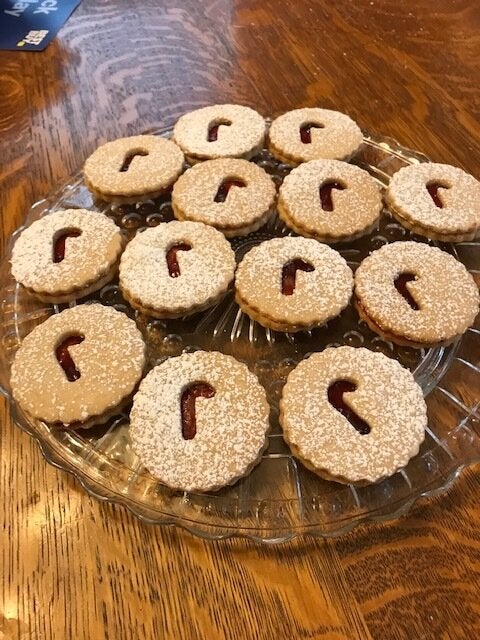 The best idea you've had all year is probably to stay inside this weekend and bake these lovely Linzer cookies, recipe courtesy of our even lovlier pastry chef Julie.
This is Julie's favorite go-to holiday cookie recipe. It's easy and can be modified by using any flavor of jam/jelly. The recipe contains no eggs, so it's an excellent choice for anyone who has egg allergies (and can pretty much eat no holiday cookies ever).

These cookies don't spread out in the oven or get very brown, so the key with this recipe is to master the baking time, which varies from oven to oven. Don't let that scare you, though. This is a quick and delicious cookie recipe that can easily become a tradition.


Linzer Cookies Recipe: makes about 36 1 & 1/2 inch cookies
What you'll need:
1/2 cup finely ground almond meal

2 & 1/2 cups all purpose flour

pinch of salt

1 teaspoon ground cinnamon

1 & 1/4 cups (2 & 1/2 sticks) unsalted butter, room temperature

2/3 cup granulated white sugar

1 cup confectioners' (icing or powdered) sugar

3/4 cup (raspberry or black currant jam (can use other flavored jams), well stirred
What you'll do:
Mix together flour, almond meal, salt and ground cinnamon, set aside

In a large bowl, beat unsalted butter and white sugar until blended.

Stir in the flour mixture until blended and divide the dough into thirds. Place each portion between sheets of waxed or parchment paper and roll to 1/8 inch thick. Refrigerate for at least one hour or until firm.

Preheat oven to 350 degrees and line cookie sheets with parchment

Cut the dough out as desired and place on lined cookie sheets.

Bake 10-15 minutes.

Remove and place on racks to completely cool.

Sandwich cookies with jam and lightly dust with confectioners' sugar.

It can't get any easier or more festive than that!