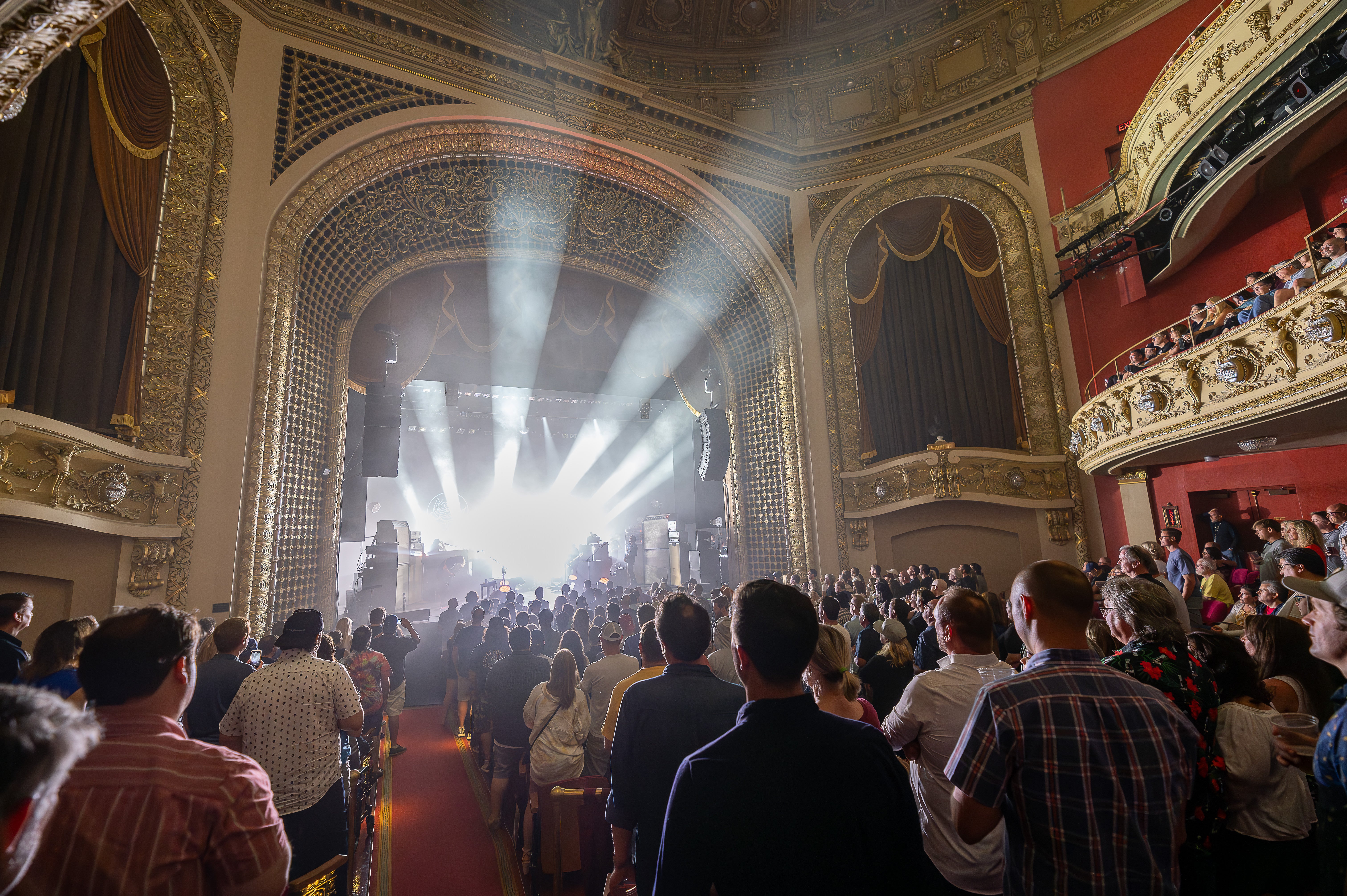 Nicoise, Alaskan Halibut, and a Glance Back to a Sunnier Season
There are those who lean hard into sweater weather. The pumpkin spice! The crispy air! The Halloween! But, for those who don't embrace the changing season with gusto, have we got a warm weather recipe retrospect for you. Pull out that seasonal depression therapy lamp and travel back with us to a time when visiting artists savored Milwaukee's summer air - and food - courtesy of Chef Kevin.
Nicoise Salad (for Ryan Adams)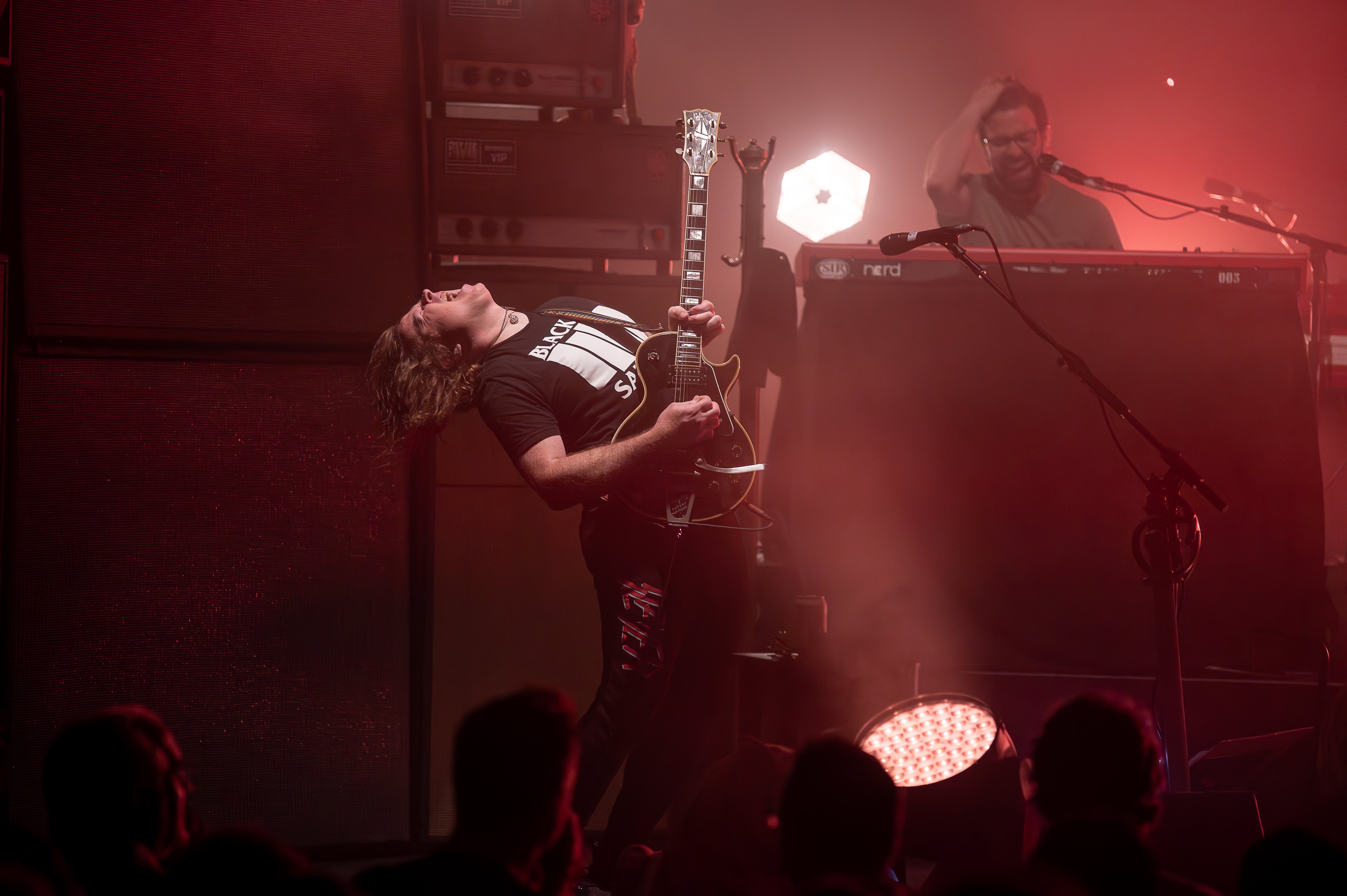 When Ryan Adams & The Cardinals enchanted the Pabst Theater back in July, the band enjoyed this crisp classic. It compliments a cook-out or serves as a delicious entree, aside a cool glass of rosé, of course.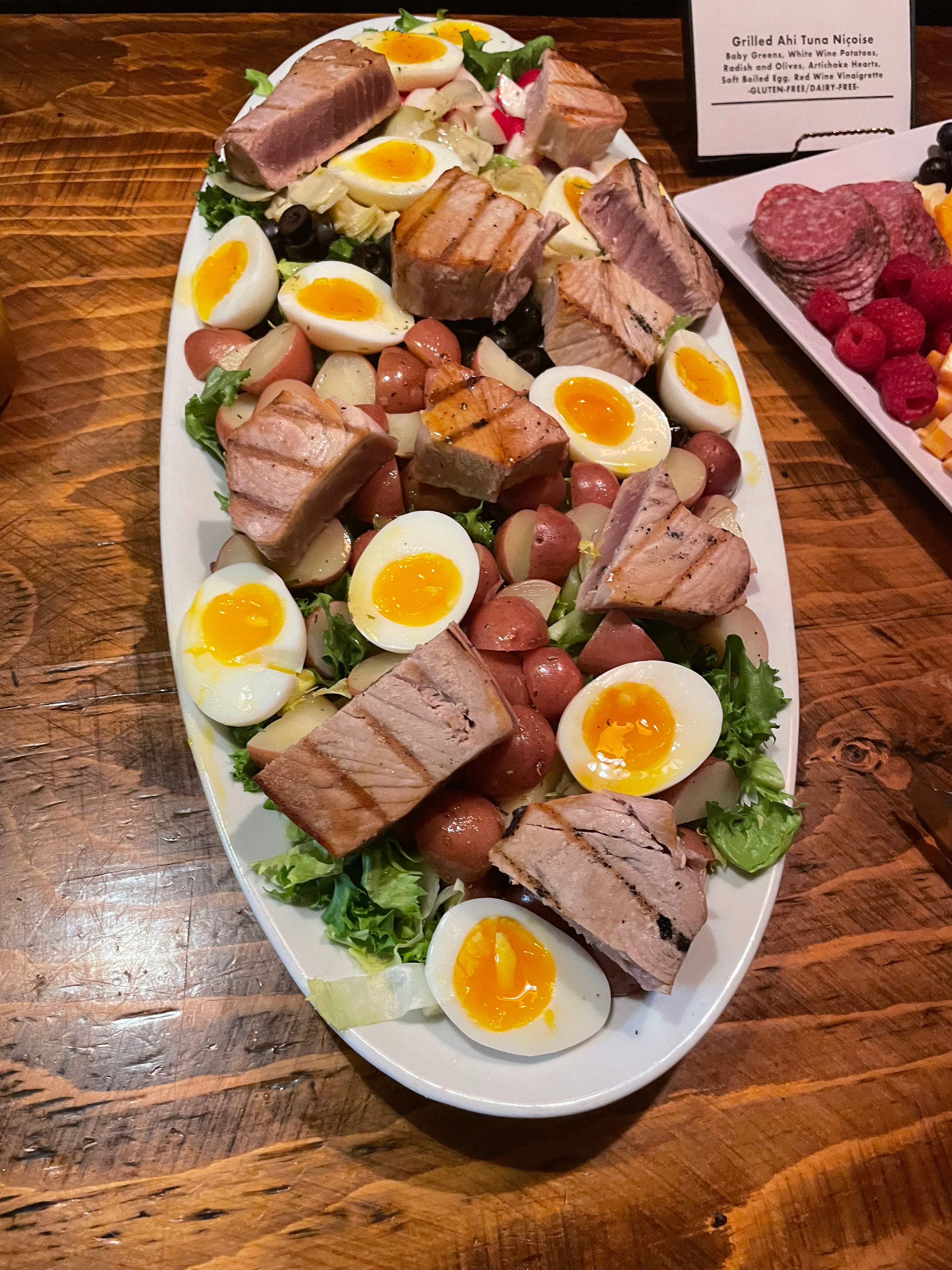 What you'll need (for 6-8 servings):
Mixed greens of choice (Kevin used a mix of curly endive, escarole and radicchio)
¾ cup extra-virgin olive oil
¼ cup red wine vinegar
A pinch of herbs de provence
2 Tbsp Dijon mustard
1 Tbsp chopped shallot
1 Tsp freshly ground black pepper
1 Tsp kosher salt, plus more
6 medium sized eggs
1 lb. green beans, trimmed
10 baby potatoes halved and boiled to desired doneness (take care not to overcook)
1 cup of quartered radishes
1 cup of olives
Grilled fresh Ahi tuna or a nice olive-oil packed canned tuna
Flaky sea salt
*Other ingredient options to consider are capers, peperoncini, pickles, anchovies or other pickled-briny ingredients, drained well (for serving).
What You'll Do:
Prep the vegetables, i.e. blanch the green beans, cook off potatoes, drain any jarred items and set aside.
Chop up the greens for the base of the salad.
Bring a pot of salted water to a boil and lightly drop eggs in. Cover and turn heat to medium. For a soft/medium boiled egg, set a timer for 6 minutes and 30 seconds. For a hard boiled egg, set it for 7 minutes and 30 seconds.
When the timer goes off, remove the eggs from the pot and place into a bowl of ice water. Kevin recommends peeling them when they are still slightly warm as the shells come off a little easier.
For the vinaigrette, combine the shallot, dijon and red wine vinegar in a small mixing bowl. Allow the shallot to steep in the vinegar for a couple minutes before adding the olive oil and herbs de provence.
If you are grilling fresh tuna, it's time to fire up the grill.
Assemble the greens, add the prepped veggies and potatoes, slice the eggs in half and scatter about the plate.
Once the tuna is a nice medium rare temperature, set it atop the salad.
Give the vinaigrette a nice whisking and dress the plate to preference. Sprinkle a little sea salt over the top and the salad is set.
Seared Alaskan Halibut with Goat Cheese Mashed Potatoes and Salsa Verde
(for The Revivalists)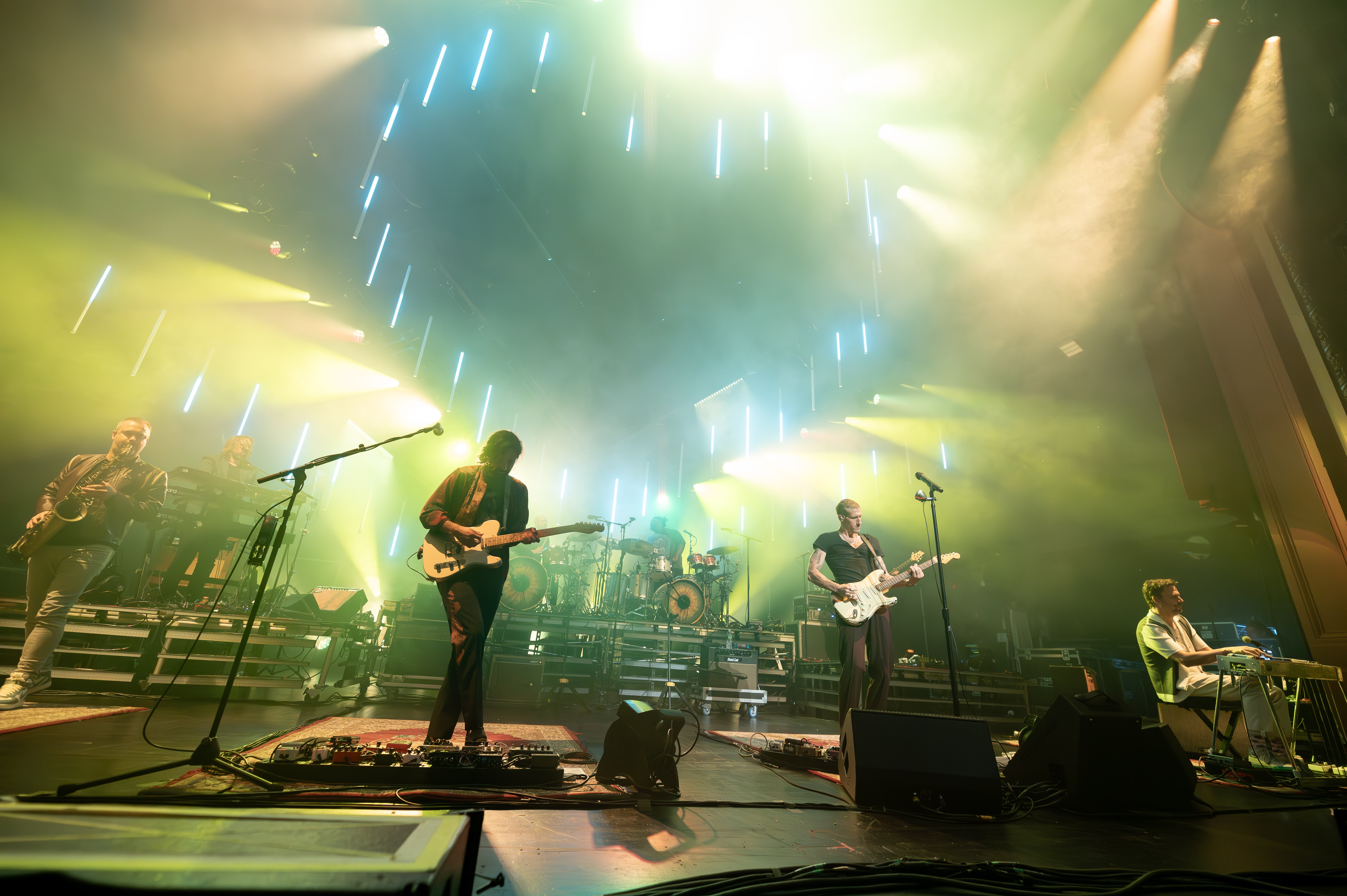 In August, the Riverside welcomed The Revivalists with Band of Horses for a performance that was as deliciously rich backstage as it was on. The band enjoyed a beautifully prepared Alaskan Halibut, the perfect dinner for a summer patio. And, as we all know, mashed potatoes are to be enjoyed during any and every season.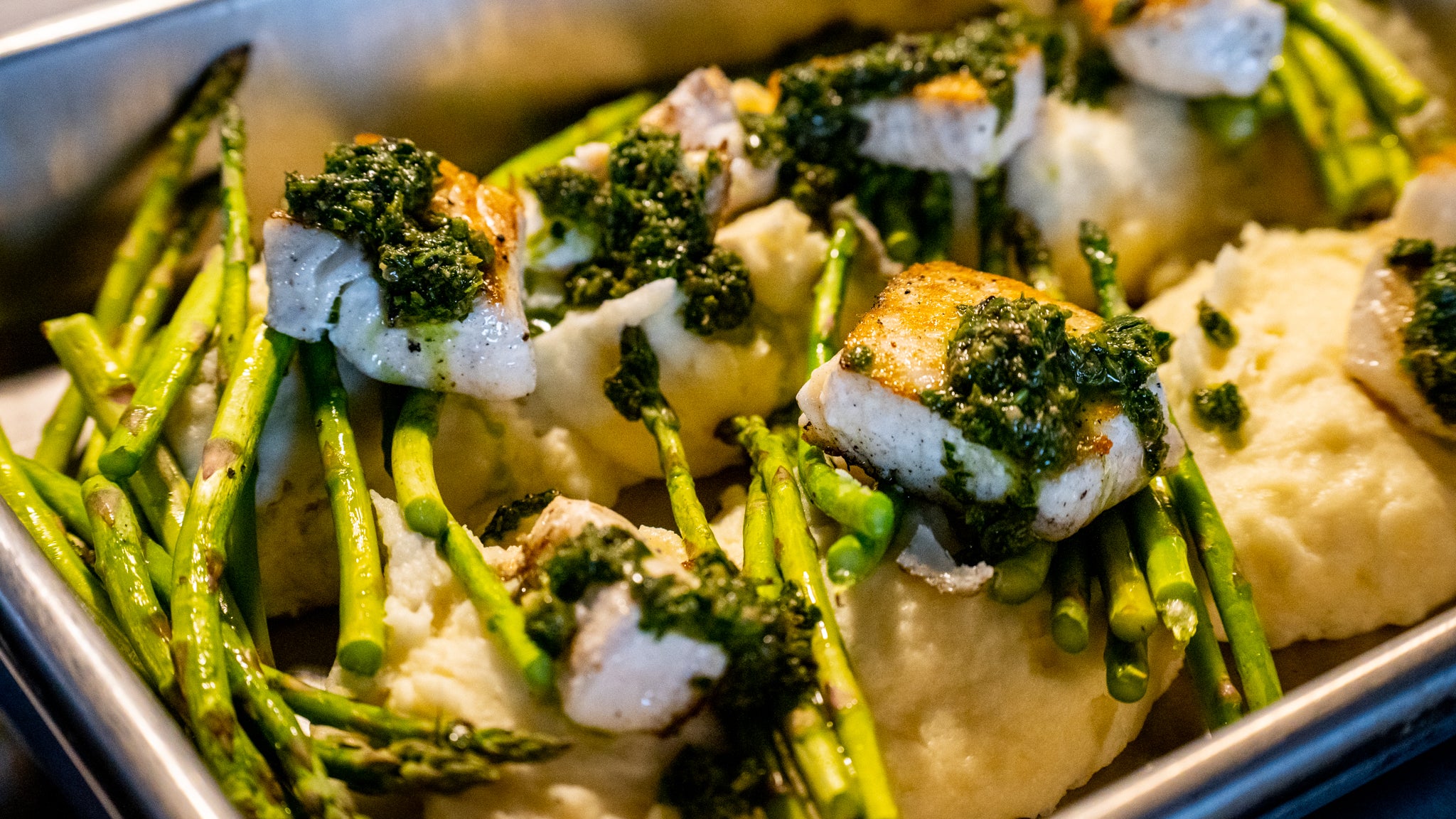 What you'll need (for 6 servings):
Mashed Potatoes:
6 Large Russet potatoes
1/4 cup heavy cream
2 oz goat cheese
What you'll do:
Peel the potatoes and rough chop into cubes. Add to a pot of salted water and bring to a boil. Once the water reaches a boil, bring the heat to low and allow to simmer for 15 minutes or until potatoes are cooked through. Drain potatoes and return to the pot. Add the heavy cream, goat cheese and some salt/pepper. Whisk to combine until potatoes are smooth.
Salsa Verde:
1 small bunch Italian parsley
2-3 leafs of fresh mint (optional)
1 Tbsp capers
1 oz chopped garlic
2 filets of anchovy or 1 tsp of Italian fish sauce
Red chili flakes to taste
3-4 oz extra virgin olive oil
What you'll do:
Chop the fresh herbs, garlic and anchovy. Add all of the ingredients along with olive oil to a mixing bowl, add salt and pepper to taste.
Alaskan Halibut:
6 4-6 oz halibut filets
What you'll do:
Allow a large saute pan or cast iron skillet to preheat over a medium flame for 2-3 minutes. Add a couple drops of oil and the halibut filets. After 3-4 minutes flip the filets with a spatula. Cook for another 2-3 minutes and the filets should be at medium temperature in the middle. Place on top of the goat cheese mashed potatoes, with your favorite veggies and spoon some of the salsa verde over the top.