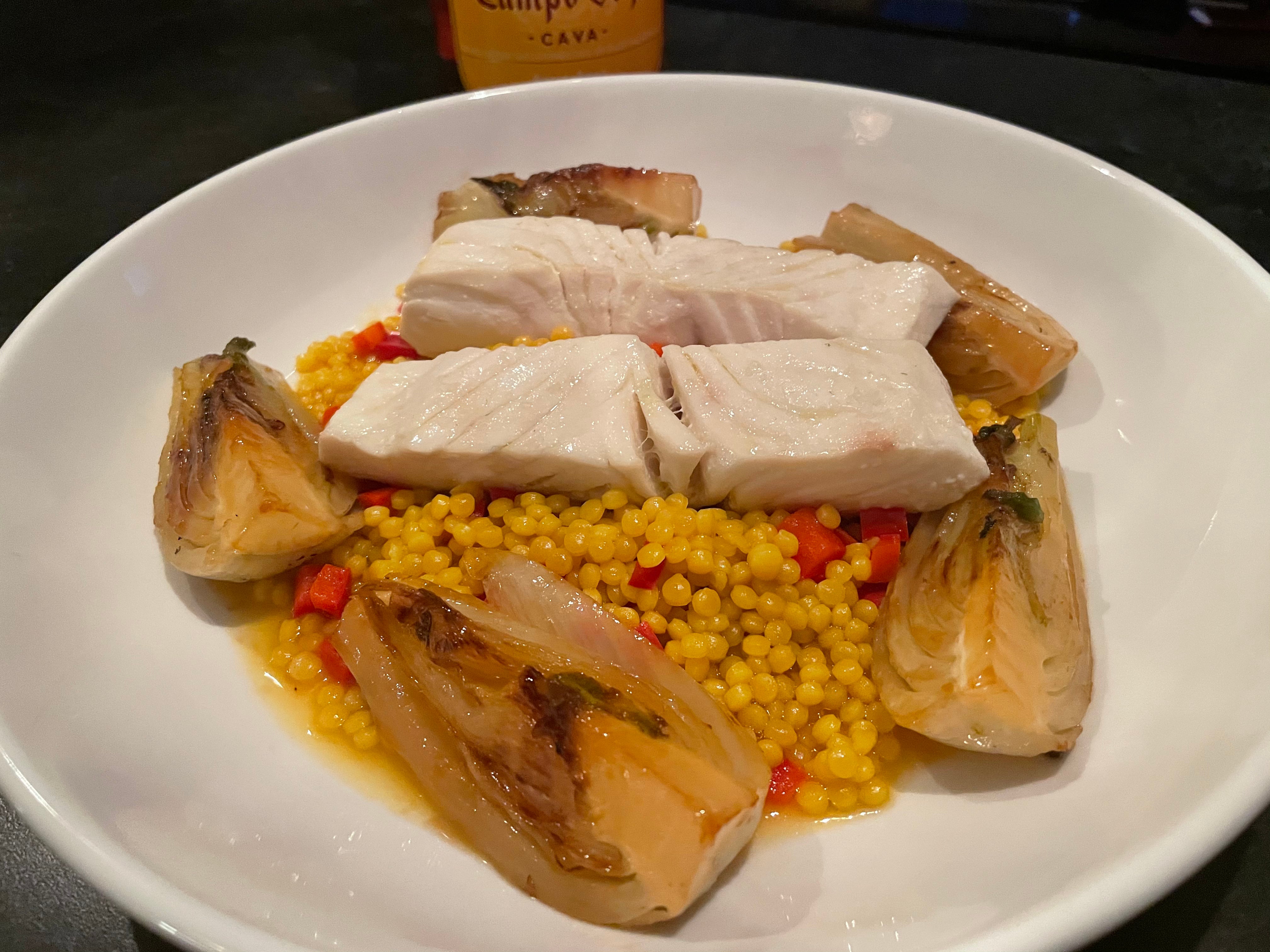 After a few sunny, 60 degree days over the past week, it's hard not to get in a spring/summer mode. It seemed like a longer than normal winter, and finally, we can start to look forward to not only some nicer weather, but many of the seasonal spring ingredients that we all look forward to cooking and eating. But before the ramps, morels, fiddlehead ferns, softshell crabs and the like hit the markets, Alaskan halibut is our first "spring" ingredient to come our way, starting mid March. I've been craving some halibut as of late, so it was my pleasure to head to the market this morning and see plenty of fresh Halibut on display.
As I put together a dish for this week's food Friday, I couldn't help but day dream beyond spring to the warmer months of summer. With that in mind, I decided to Mediterranean-style prep which would probably be a little more appropriate at the patio table mid-August, but I'm not going to let that stop me, and as it's a pretty simple dish to prepare, you shouldn't either.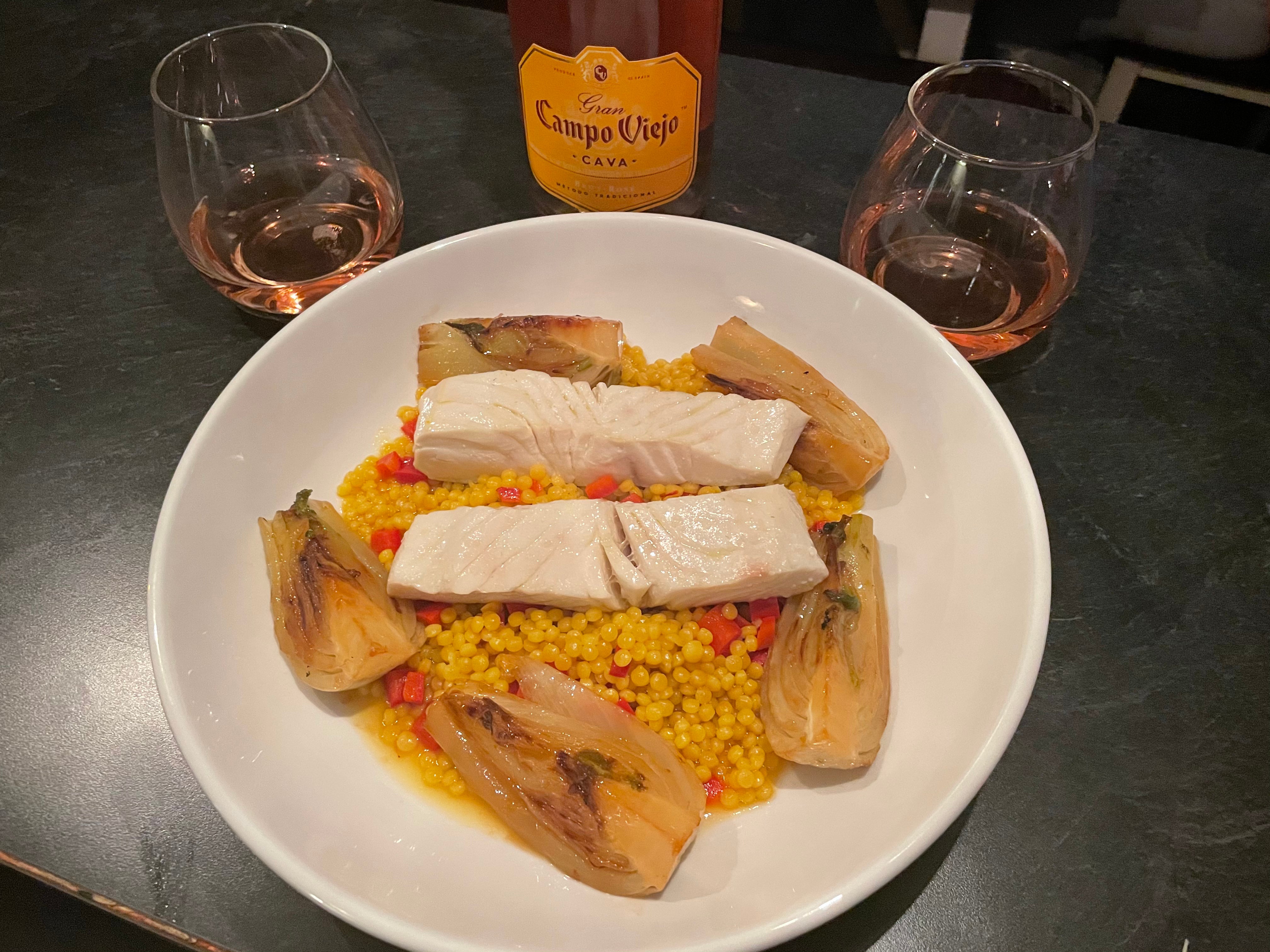 First off, we are going to "poach" our halibut filets in a nice olive oil. A few things to note: submerging fish like halibut, salmon and tuna in warm olive oil results in a beautifully juicy piece of fish. I also happen to love the appearance of fish poached like this. The key is to make sure your oil is not too hot. When you submerge your fish into the oil, there should be little to no bubbling happening, as opposed to when you fry fish and the bubble action is vigorous.
If you haven't tried this method of cooking fish, read up on it a little more and give it a whirl.
Along with our fish today and sticking with the warm vibes of our Mediterranean theme, we are going to glaze some fennel bulbs in fresh orange juice, a little white wine, and finish with a little bit of sugar to complete the glaze.
And to finish the meal we are going to cook some pearled couscous in some chicken stock and a little bit of saffron.
With those 3 different preparations, we will have touched on some ingredients and techniques from a few different areas that make up the Mediterranean. And although a dish like this might taste a little better with the winds from the sea blowing on your face while eating al fresco in one of these beautiful countries, I'm certain you will enjoy it as a special, unfussy dinner with your favorite dining partner at home.
Bon appetite!
What you'll need:
2 4-5 ounce halibut filets
Extra virgin or high quality olive oil
¼ cup Fresh orange juice
¼ cup white wine
2 fennel bulbs, quartered from top to bottom so the stem is intact
1 ½ cups chicken or vegetable stock
1 cup pearled cous cous
What you'll do:
For the fennel bulbs, set a medium sized sauté pan, preferably one with a lid, over medium/high heat. Have the orange juice and white wine at the ready near the stove.
After the pan has had a couple minutes to heat up, add a couple drops of olive oil to the pan followed by the quartered fennel bulbs. Use a pair of tongs to flip the fennel bulbs occasionally. It's encouraged to allow the fennel get a little color on it. Once you've gotten to that point, add the white wine and orange juice to the pan, cover and turn the heat to low.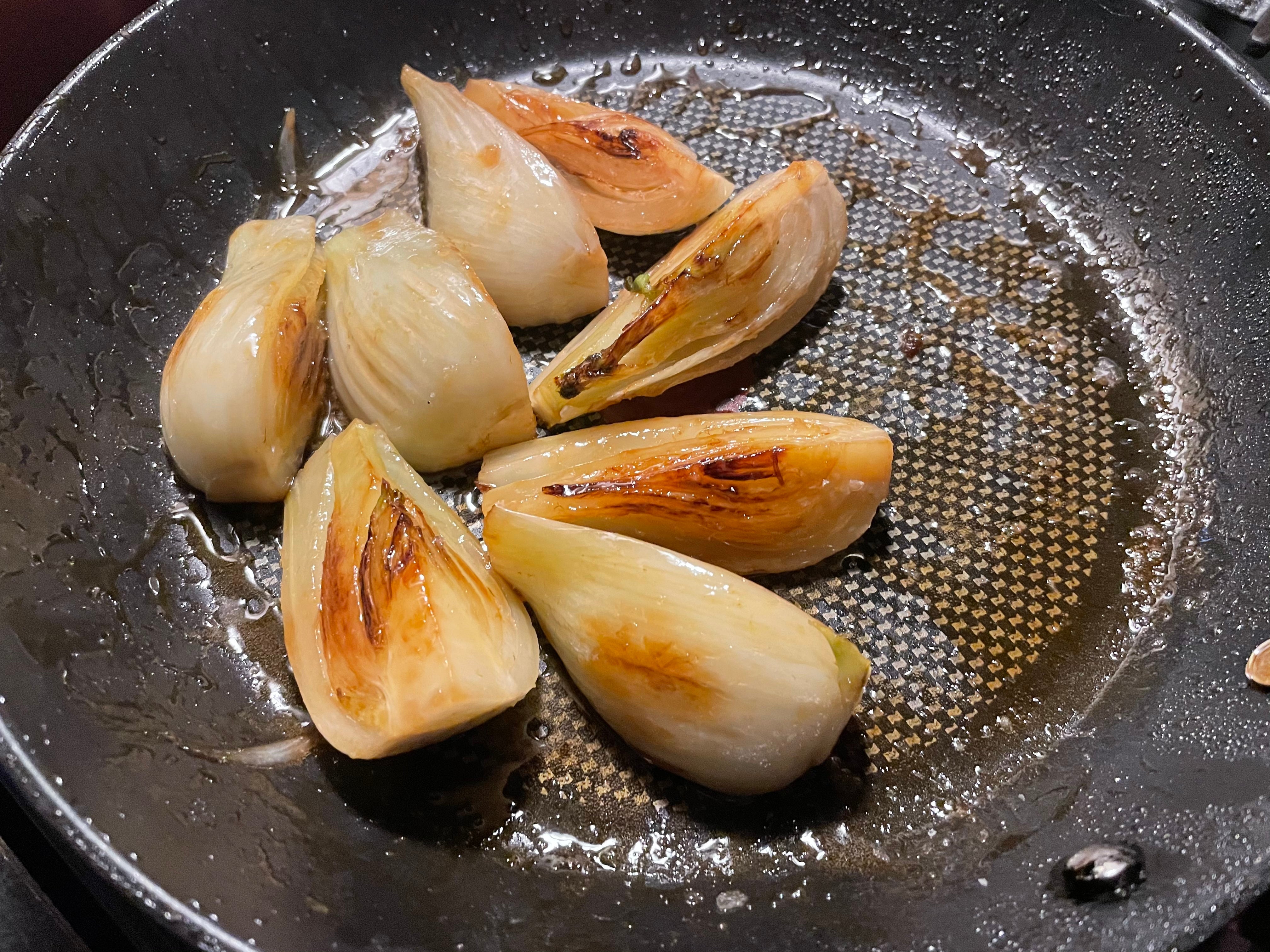 You can let them braise like this covered, over low heat for 3-4 minutes. At that point you can remove the lid and add a spoonful of sugar. Keeping the heat on low, you want the liquid to combine with the sugar and reduce to a syrup. After you toss the fennel bulbs in the syrup for a few seconds, you can kill the heat and season with salt and pepper. With the heat off, put the lid back on and set to the side to keep warm.
For the couscous, take the stock, add a pinch of saffron and some salt and a drizzle of olive oil and bring to a boil. Once it gets there, go ahead and stir in the couscous and bring the heat down to low. After around 5 minutes, the couscous should be ready to go. If there's still a bit of liquid in the pot that hasn't been absorbed by the couscous, that's ok. I like it when couscous has a little broth to it.
Now, for the halibut.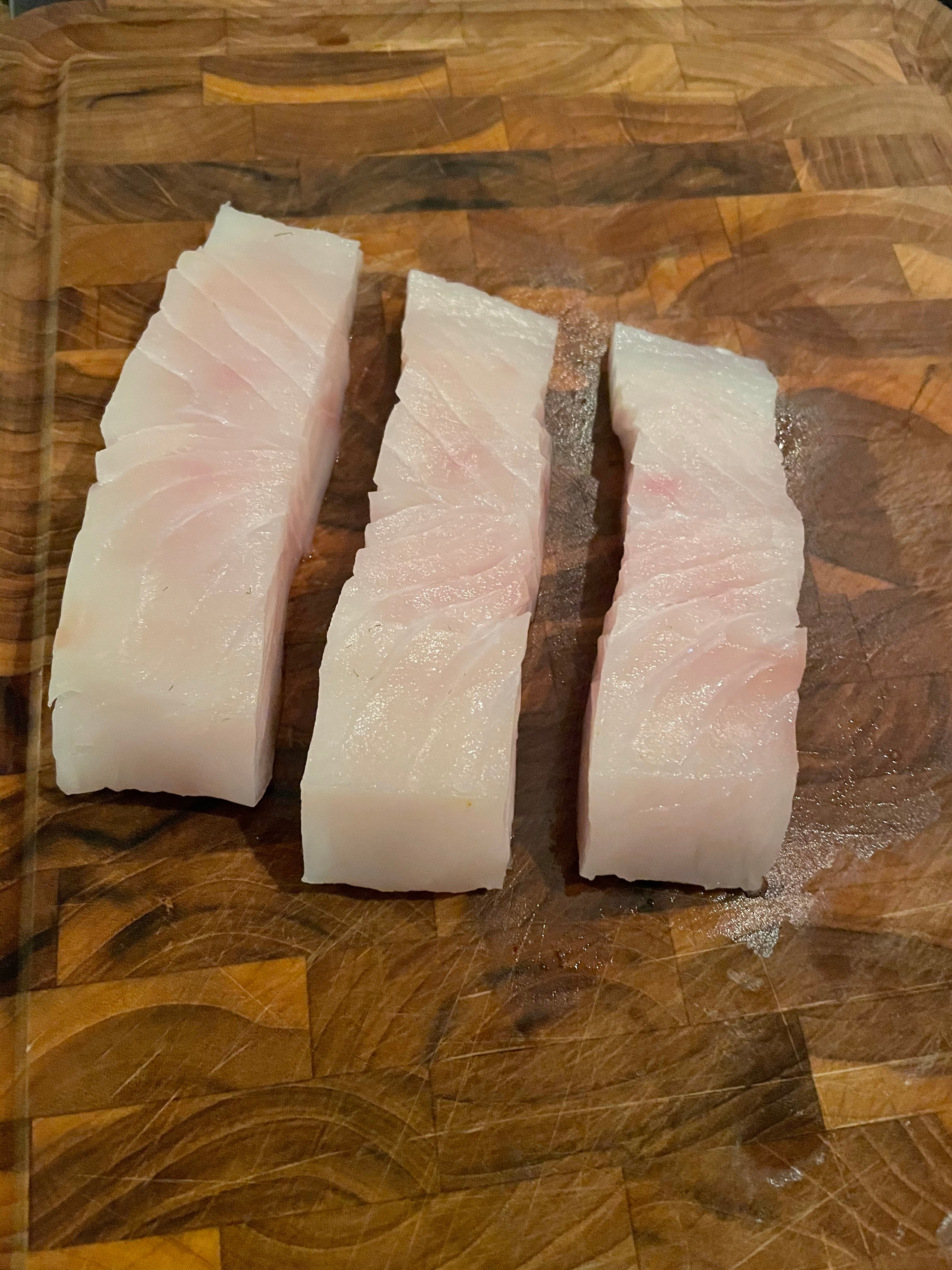 Take a small pan and fill up just over halfway with olive oil and turn the heat to low. After a couple minutes, the oil should be ready. I like to add a couple garlic cloves to the oil for flavor, but also to see when the oil is ready. Once some small bubbles appear around the garlic cloves you know it's go time.
Go ahead and carefully set the fish in the pan so as to not splash the oil. Have a nice pair of tongs and spatula handy, as you'll need to carefully turn the fish after a couple minutes.
After you turn the fish, let it cook for another two minutes, then remove to a plate and set aside.
To plate, lay down a base of your couscous. I added a little chopped red bell pepper for garnish and color. Set the fish atop the couscous, and add some of the fennel bulbs around the outside of the plate.
As with most recipe's I post here, they can sound difficult on the first read through, but once you go through the motions, it's really quite simple. So, whether it's this spring or deep into summer, this is a fun way to try olive oil poaching with one of our first seasonal ingredients, fresh halibut.