The Pabst Theater is This Year's One Stop Holiday Shop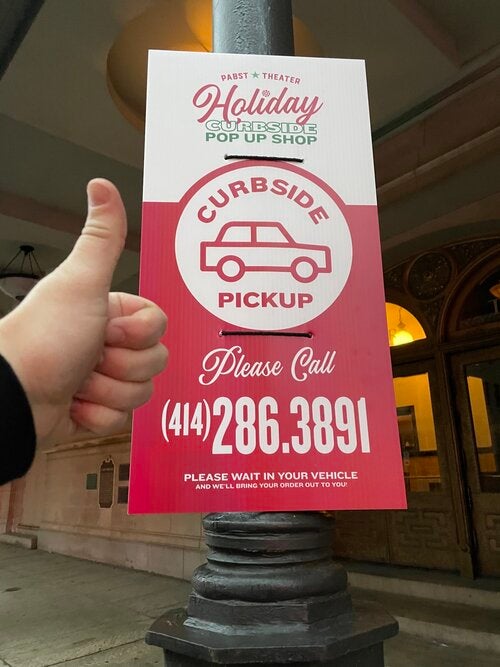 The last 8 months have been hard and, unfortunately, we've entered a holiday season that's proving to be no exception. We're tired. We miss our family and friends. We're (relentlessly) navigating the challenges of home schooling and working remotely. We don't know what's next, or how to plan for the future. The list is long. Every day, we're working harder than the one before to keep it all together.
And, now, onto the next challenge…finding that frickin holiday cheer.
Whether you normally love the holidays or hate them, this is definitely not the year to be a Grinch. Even if you really really want to be. Eat a Christmas cookie (or many Christmas cookies), sit in the glow of some holiday lights, call or FaceTime someone you love and support local small businesses when you're buying gifts that will bring cheer to those around you.
If anything, use this time to celebrate that 2020 is finally coming to an end.
The Pabst Theater Group has a ton of affordable, unique and convenient options to help ease the shopping burden this year. Whether looking for the perfect pair of work from home sweatpants or dreaming of the return of live music, we're here for you. And, we're thankful you're here for us. Every purchase helps us get closer to welcoming you back into our theaters. So, let's get through this holiday season together.
Holiday Curbside Pop up Shop
There are few things easier than purchasing items online and then having someone (wearing a mask!) load them in your car for you when you go to pick them up. Unless you have them shipped directly to your home, which is an option here too. Our Holiday Curbside Pop Up Shop is full of cool items (not normally available in our online store) that are easy to purchase and even easier to take home.
Commemorative Merch for the Pabst's 125th
Did you know that Pabst Theater turned 125 this year? That's one positive thing to come out of 2020. To celebrate, Matthew Fleming (WI native and crazy talented artist) designed a gorgeous commemorative poster. Purchase the poster, shirt or mug for the Pabst lover in your life!
Gifts Cards with No Expiration Date
Live shows may be on hold, but you can give the gift of something to look forward to. And the best news? These gift cards have no expiration date, so as soon as we get back to business, you can too. Take advantage of our special gift card offers available now and get more even more for your money.