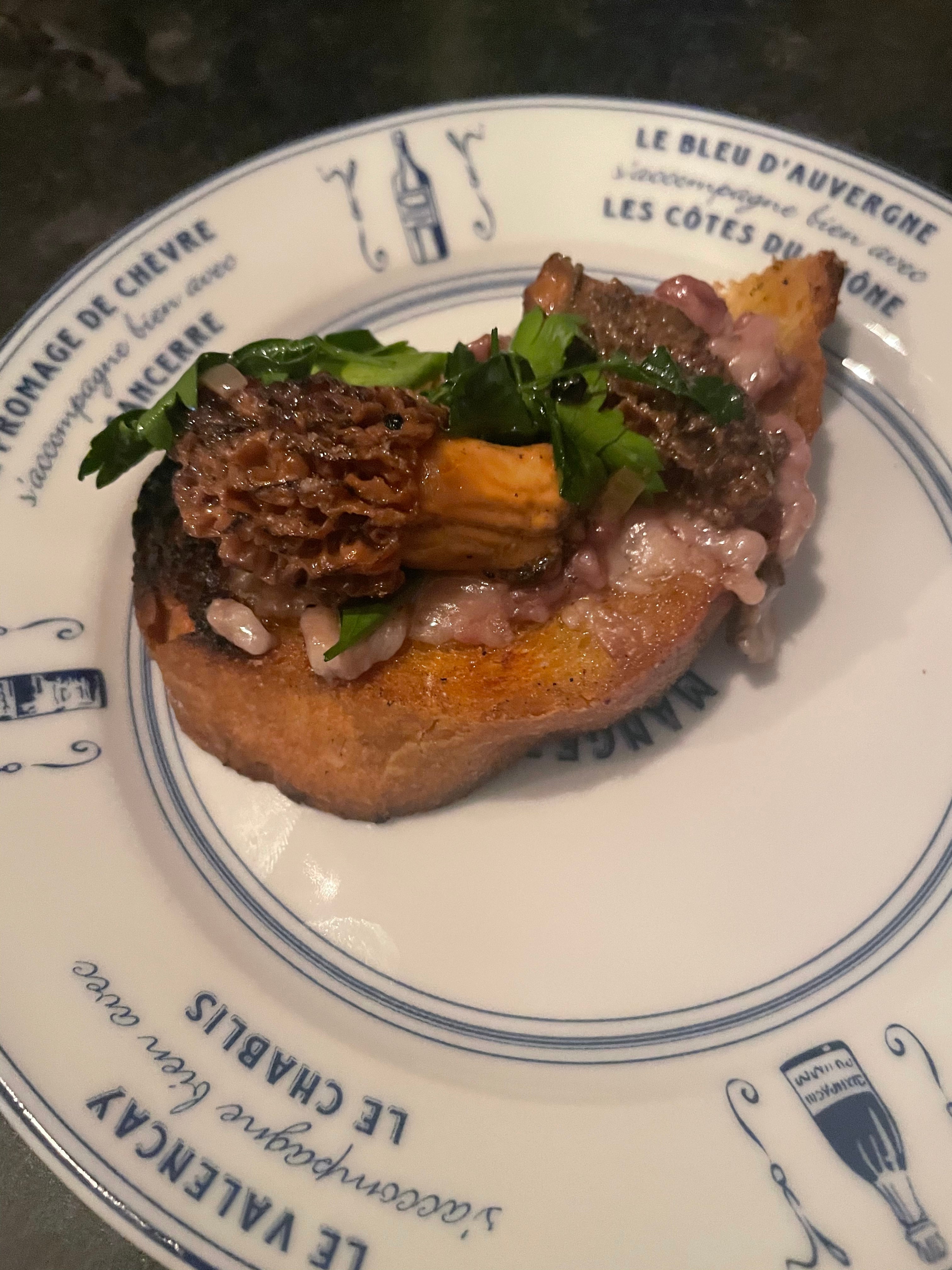 Bone Marrow Toast with Morel and Parsley Salad
For this week's Food Friday I put together a simple preparation for bone marrow. I know if many of you were to get your hands on some bones like these, you'd likely just turn them over to your pups, which is a great idea! But, next time, roast,or grill the bones for 10 minutes or so, slather the marrow on a piece of bread or toast…then give the bones to your pups. It's a win-win for everyone.
Here's an easy way to prepare grilled bone marrow on toast. And, for fun, let's add a morel mushroom and parsley salad.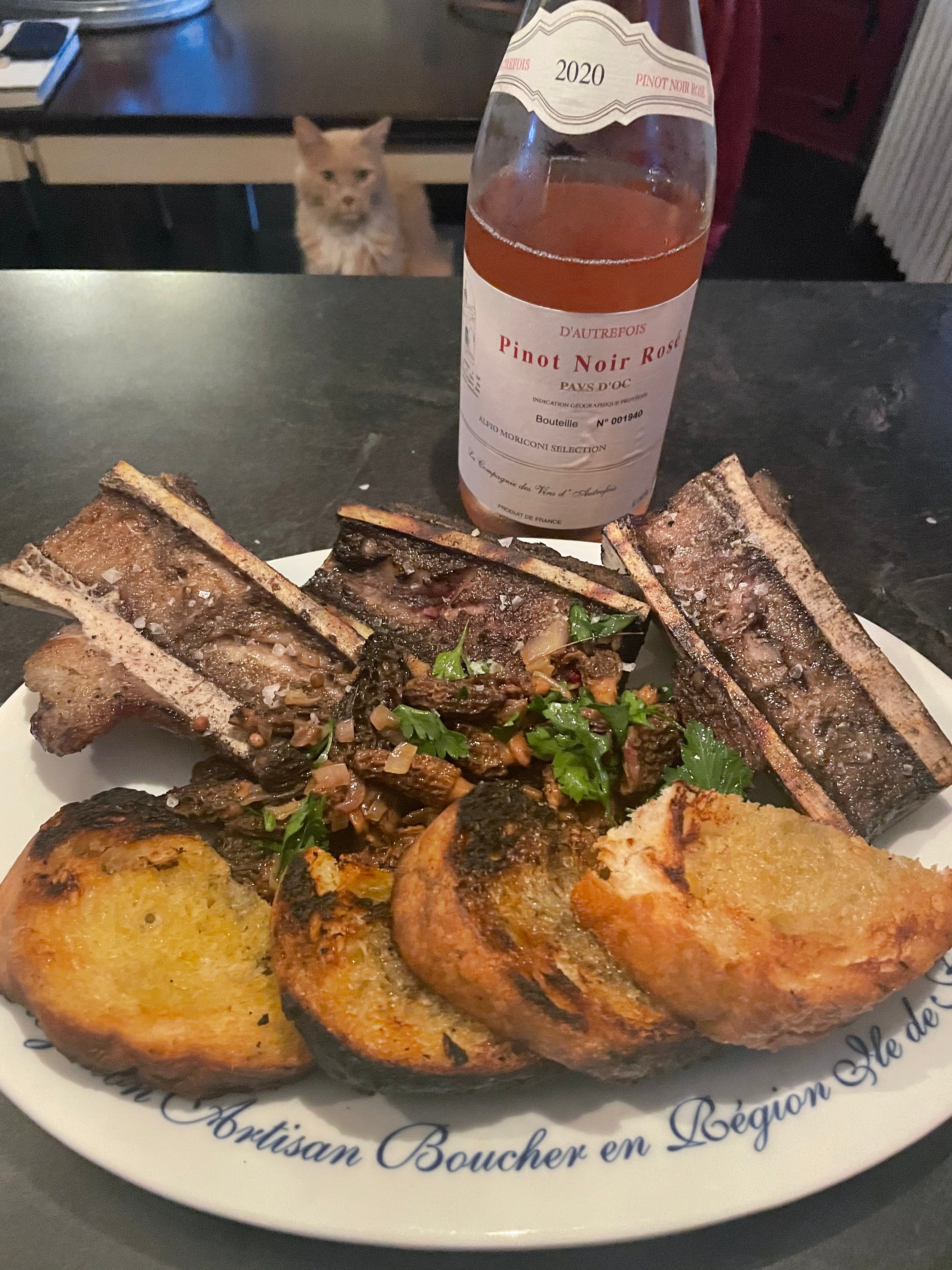 What you'll need:
2-4 marrow bones
1 baguette or your favorite crusty bread
1 T chopped shallot
A dozen fresh parsley leaves
Your favorite sea salt (I used Maldon)
1 T fresh lemon juice
Extra virgin olive oil
¼ cup chicken stock
A few pink or green peppercorns (optional)
What you'll do:
The first thing you want to do with your bones is fill a container with water and plenty of salt, I used about a half a cup. Dissolve the salt and add your bones and a layer of ice cubes at the top. You can let that sit for a few hours or up to a day. This will pull any blood out of the marrow. I've cooked these without soaking them before which worked out just fine, but I still recommend this step.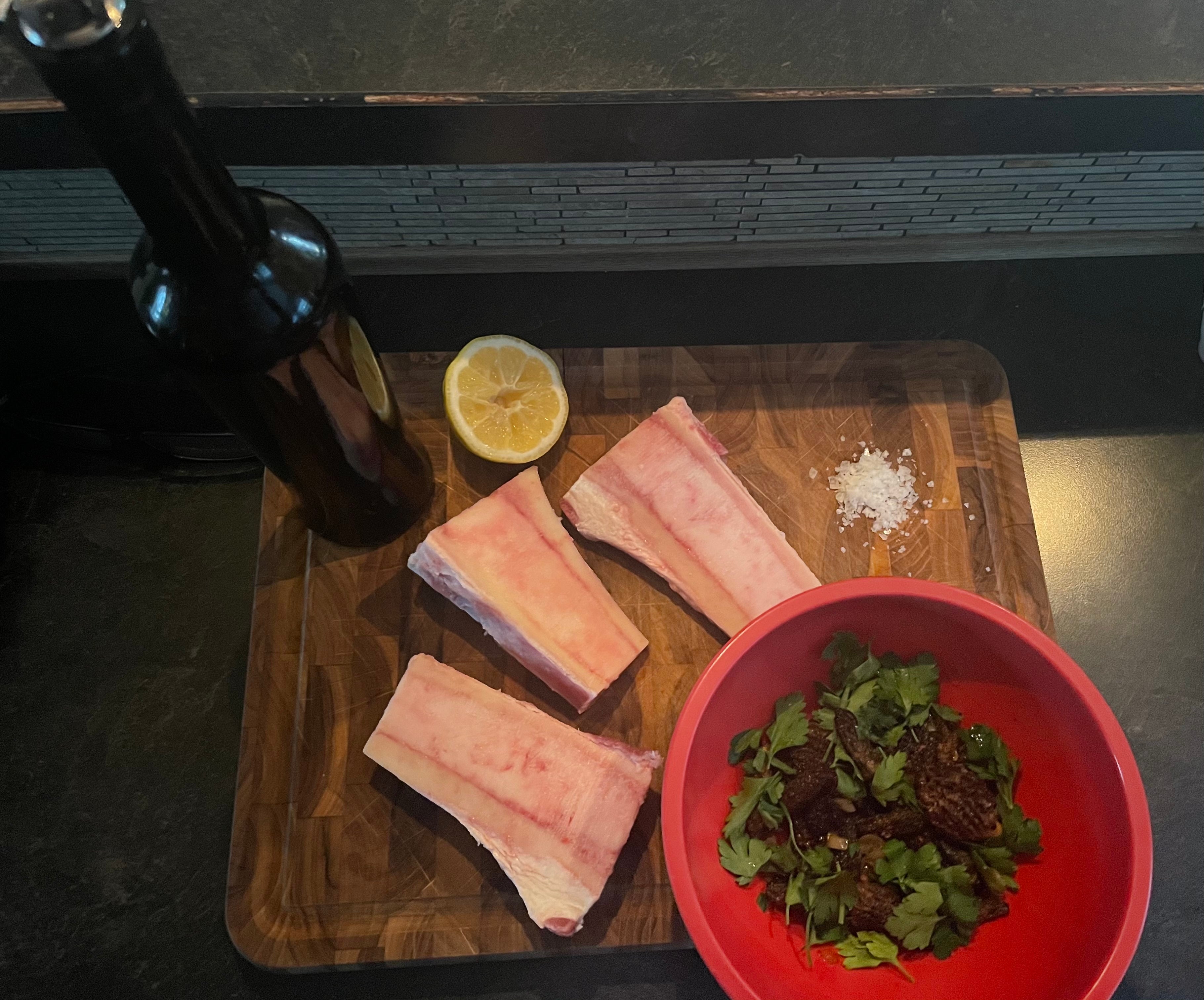 Pull your bones out of the salt water and pat them dry with a paper towel.
Because it's that time of the year and I had some on hand, I put together a simple compliment salad with morel mushrooms, shallot, fresh parsley, lemon juice, olive oil, sea salt and some pink & green peppercorns.
In a cast iron or mid to large size saute pan, add a couple drops of oil and allow your pan to get hot. When it does, add your mushrooms and shallots. If your pan gets dry feel free to add a little more oil. After sautéeing for a couple minutes, I added ¼ cup of chicken stock, a few green and pink peppercorns for a little bite, and turned off the heat. The residual heat from the pan will reduce the stock to au sec, meaning almost dry.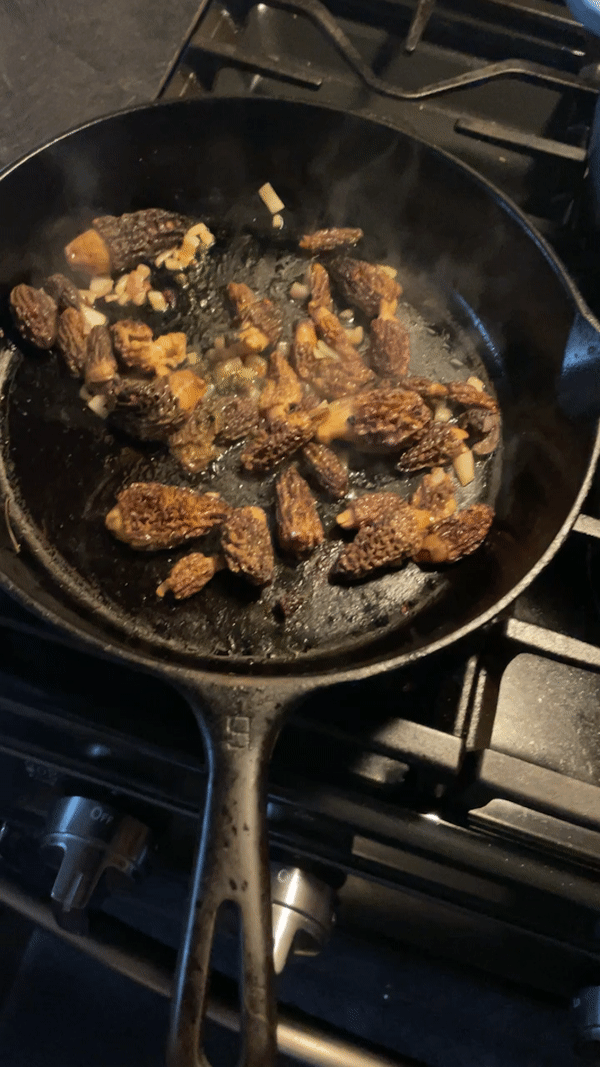 Put the morel mixture in a medium sized bowl to cool.
Now you can slice off some nice pieces of your baguette. Line up the slices and your marrow bones and drizzle all of it with a nice olive oil, and head out to the grill.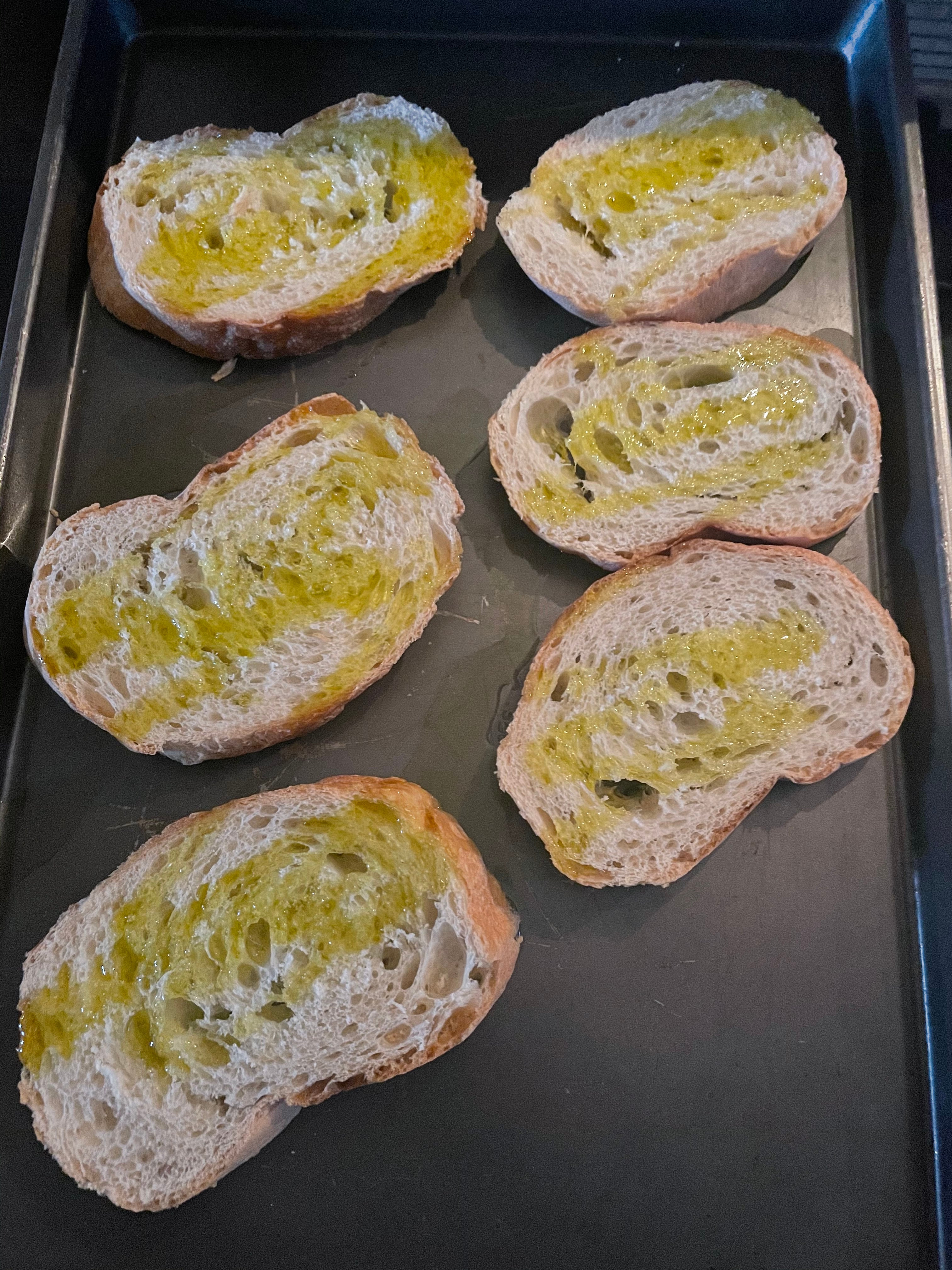 Of coarse, we can roast these bones in the oven, and it's a little easier to do that, but the smoke from the grill really lands inside the marrow which gives it a nice full flavor, so this is the route I usually go. Because a little of the marrow will spill out, it's easy for your fire to flame up and out of control, so you want to stay close by with your lid handy to quell any flame ups.
Start by laying the bones on the grill marrow side up and slightly off to the side of the hot spot. I put my bread along the outside of the grill to get a little char on each side. After a couple minutes turn your bones over so they are marrow side down. Here's where it can get tricky with the marrow dripping into the fire, so when my grill starts to flare up, I throw the lid on and close the air holes. This will kill the air flow and put out the fire. After 3-4 minutes, flip the bones marrow side up once again and let them cook. You will see your marrow start to bubble at this point. Let that happen for another 3 minutes or so and you are good to go.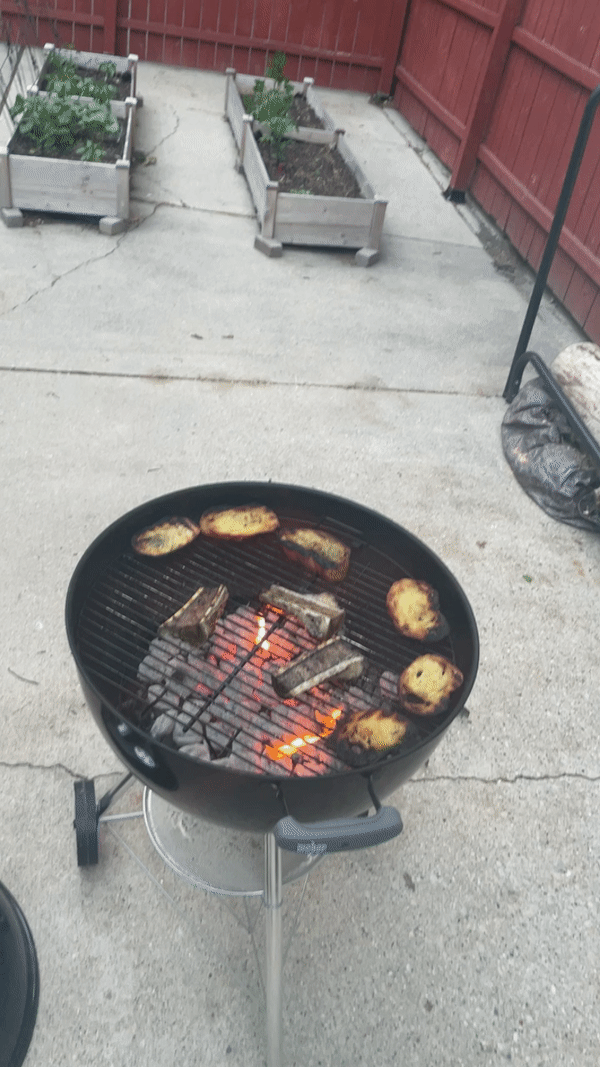 Back inside, set the bones in the oven set to 175 degrees just to keep them warm and finish the morel prep.
Take your bowl with your morels, shallot and peppercorn mixture and add some fresh parsley leaves, extra virgin olive oil, lemon juice and sea salt. Toss it around a bit to combine and plate it up.
Now the fun part. With a butter knife, scoop out some of the marrow and slather it on your toasted bread, take a spoonful of your morel parsley salad and put that over the marrow. Uncork a nice French red or rose and pat yourself on the back.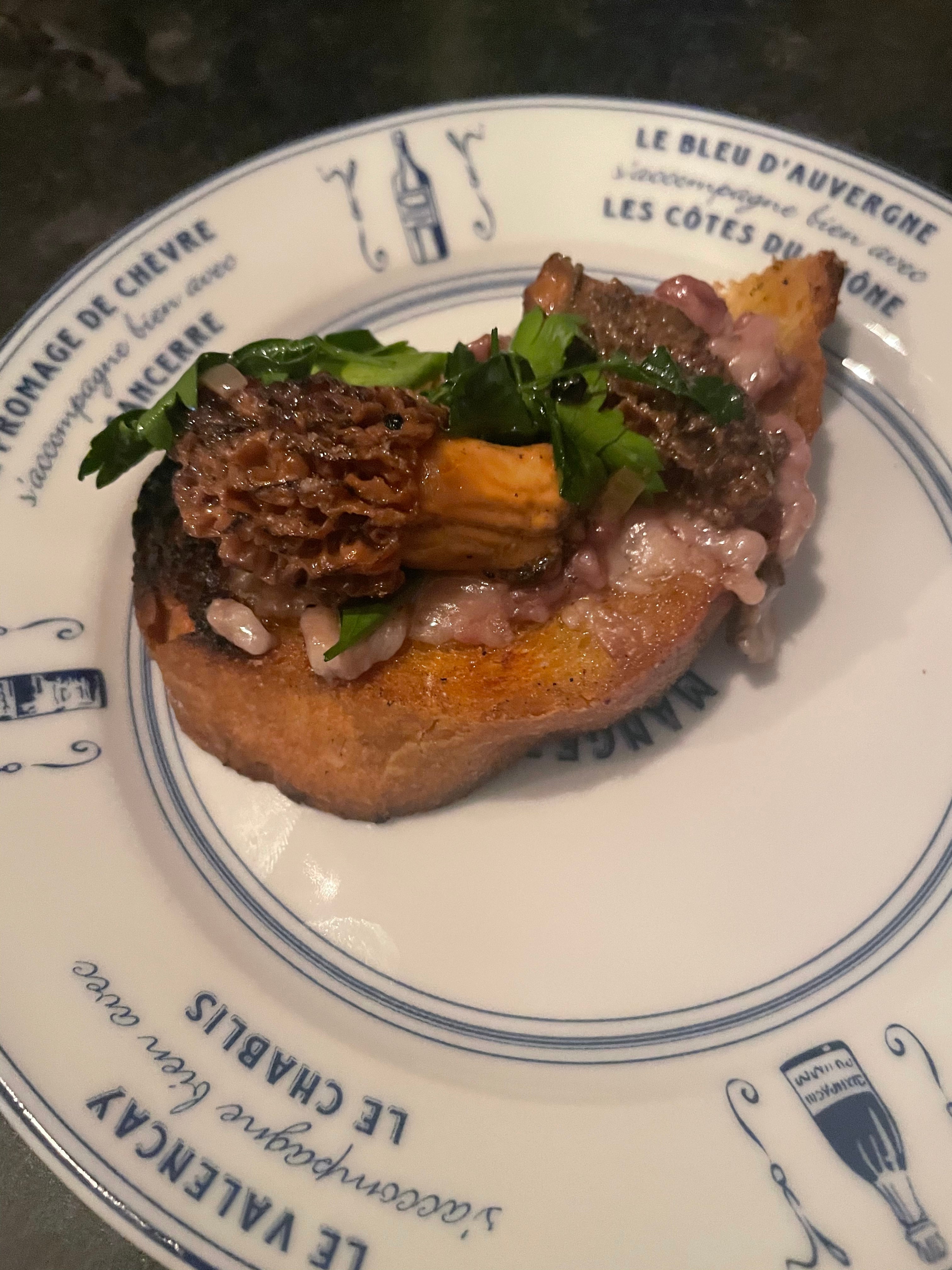 Bon Appetite!