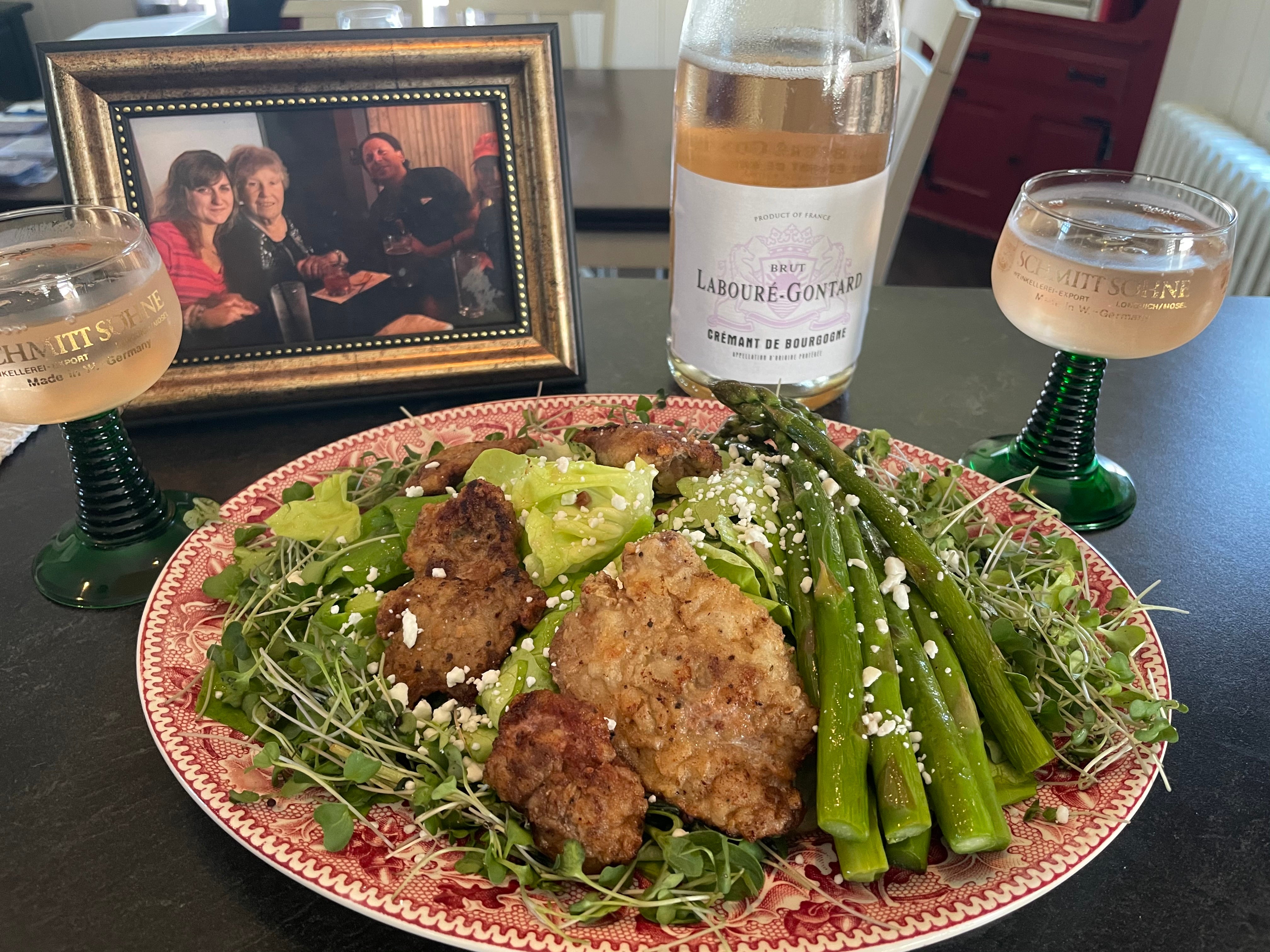 A Mother's Day Tribute Dish
For this week's Food Friday, I'm putting together a dish for Mother's Day. The best approach I could think of for this is what I would make for my mom on Mother's Day this year, if she was still here.
I landed on a seasonal dish. My mom never made this dish for me, nor have I ever made it before. But after thinking of her for a bit, and assessing the ingredients available this time of the year, I was able to make something fun that my mom would love.
Of the many benefits of being raised by a first generation immigrant, the passing down of good taste in food is one of my favorites.
Early in my life, my mom took me to the now shuttered "Wurst Haus" on Appleton Ave. It was a German restaurant with a small, but nice, butcher shop in the front.
The shop had smoked and cured meats, stinky cheeses, "peasant cuts" of meats like goose and duck livers, sweatbreads, kidney and the like. Although my mom was nice enough not to force me to eat the "off putting" cuts as a kid, I did enjoy liverwurst along with some other German sausages like lachsschinken and mettwurst.
My mom's favorite ingredient was always duck. We used to have a whole goose or duck every year during the Thanksgiving/Christmas holiday season growing up. When I had my restaurants, I always had a duck dish on the menu, pretty much solely for her.
Another dish I put on the menu, pretty much solely for her, was beef liver and onions. The classic dish, that we put a slightly gourmet twist on, was one of her favorites.
So, for my Mother's Day tribute dish to Ursula, I'm using some nice spring asparagus, foraged ramps, greens and some duck livers that I picked up from Bunzel's Meat Market. I might sprinkle a little goat cheese on too, we will have to see where we end up with this.
Normally, when a chef gets his or her hands on some duck or chicken livers, the instinct is to sear them hard in a sauté pan with some shallots, then toss them in a blender with some brandy, cream and herbs and puree into a nice liver pate spread.
I will likely end up doing that with some of the livers I picked up, but for this dish I'm going to soak the livers in milk for an hour or so, then lightly flour them, pan fry them and serve them up atop some butter lettuce, asparagus, ramps and a little goat cheese.
A nice spring salad with some pan fried duck livers, and a nice chilled sparkling wine makes for a great weekend lunch this time of year. But whatever you choose to cook this year, be sure to put mom's favorite ingredients in your dish!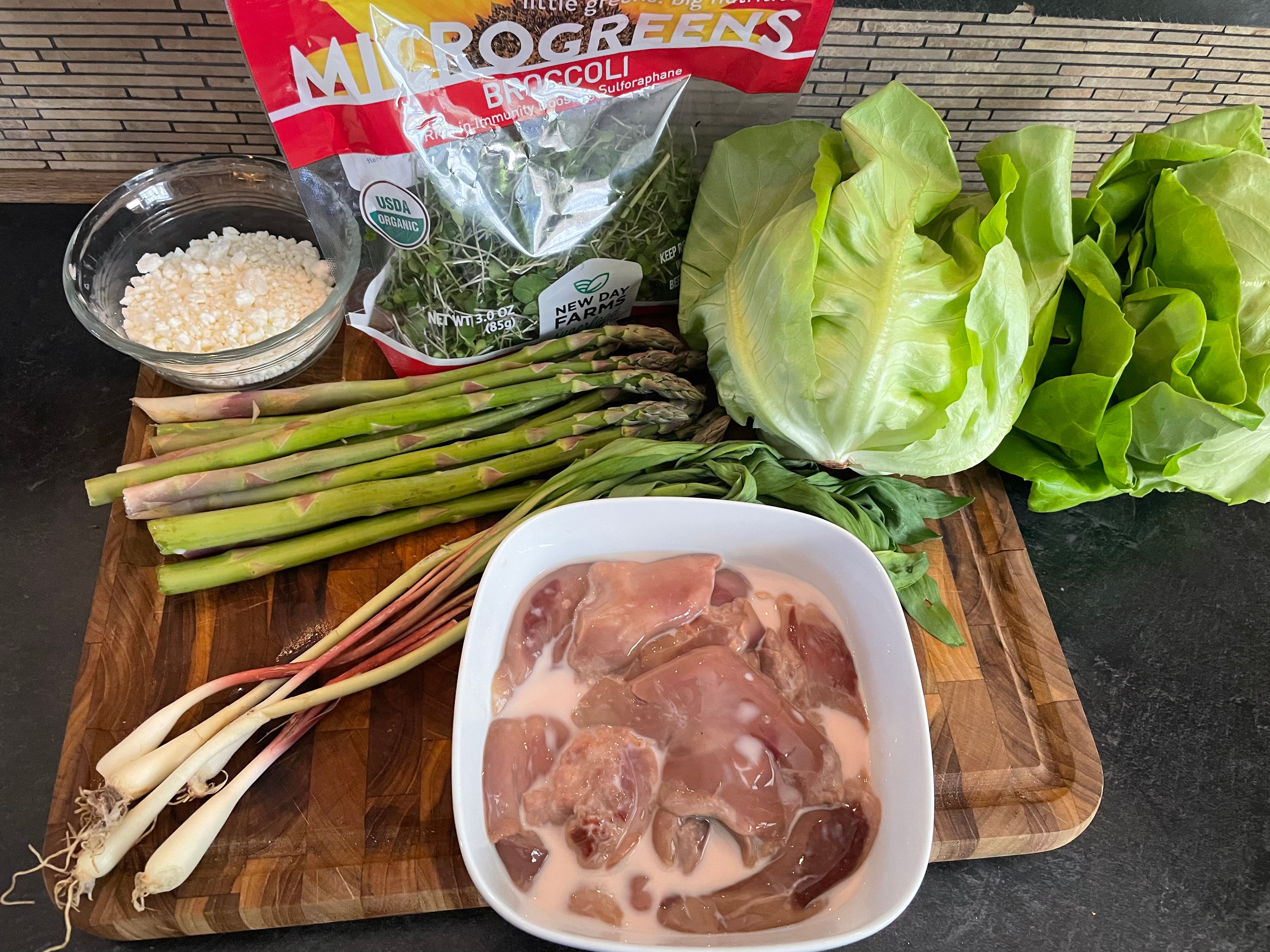 What you'll need:
- 4-8 duck or chicken livers
- 1 cup of milk
- Well seasoned flour for coating the livers
- Your favorite mix of greens (I used to some butter lettuce and broccoli sprouts)
- Asparagus
- Ramps or scallion
- Goat or blue cheese
For the vinaigrette:
- Red wine vinegar
- Olive oil
- Shallot
- Dijon
- Salt and pepper
What you'll do:
Place your livers in a small bowl or plastic container and cover with milk. Soaking them for an hour or so will help tame the gaminess and acts as a bit of a tenderizer.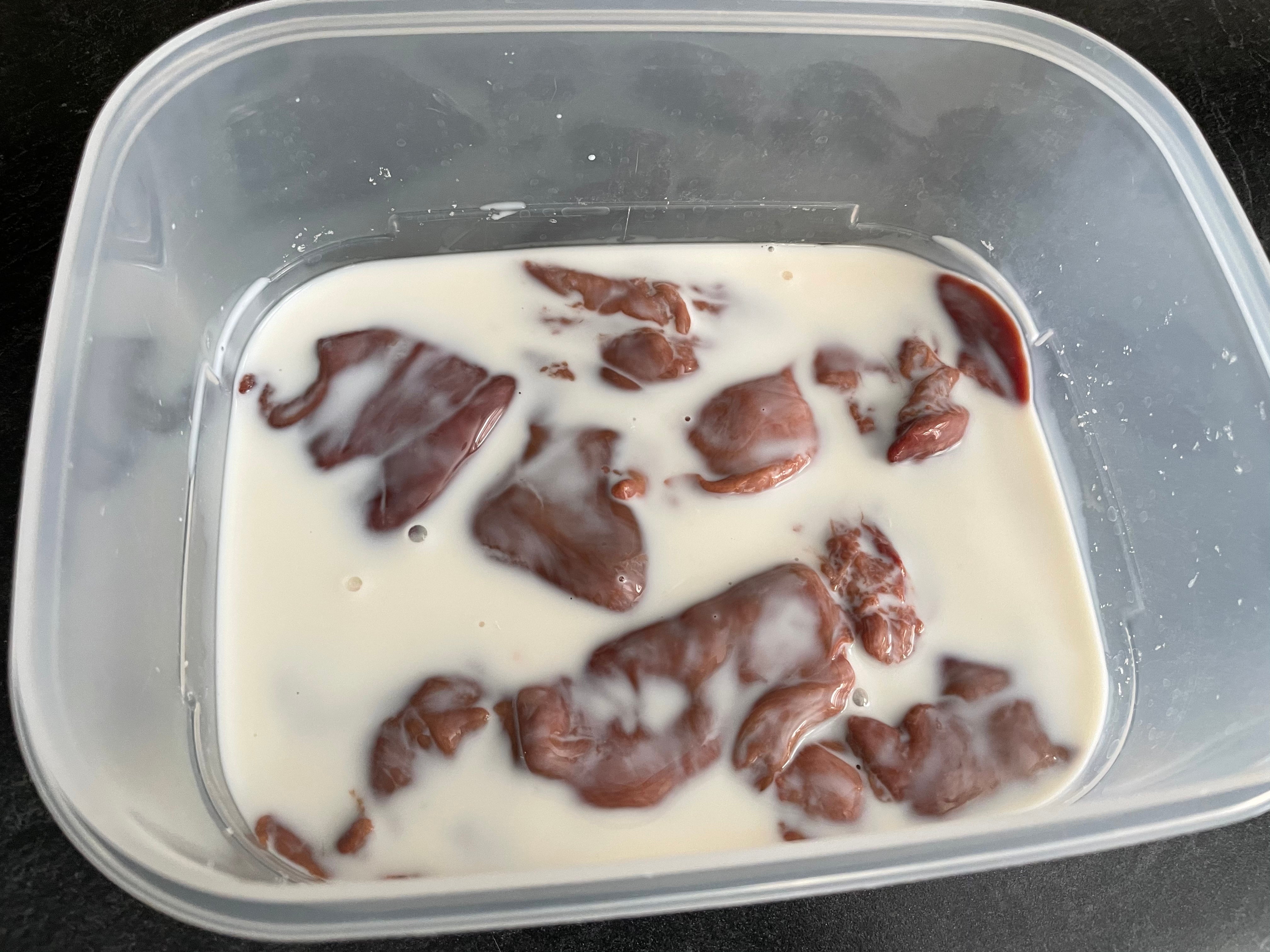 Set up a plate or sheet pan with some flour that is well seasoned with salt and pepper.
After soaking your livers for an hour or so, go ahead pull your livers out of the milk and coat them in the flour, then set aside until all of them have been floured and ready for the pan.
Go ahead and build your salad. There are many versions that can be good here. As I mentioned, I used some butter lettuce and broccoli sprouts as my base.
For your asparagus, use your favorite method here. Grilling, blanching or roasting will all work equally well. I sautéed mine in a pan for a few minutes, added some sliced ramps, then a little liquid, (stock or water) covered my pan and cooked on low heat for a minute or two.
I made a quick red wine vinaigrette for this. Sherry vinegar would work here too.
In a small jar add a quarter cup of red wine vinegar and a bit of chopped shallot, and a teaspoon of Dijon mustard. You can let it sit like that for a few minutes to mellow out (or macerate) your shallot. Go ahead and add ½ cup of your favorite olive oil, a pinch of salt and pepper, cover and shake to combine. This vinaigrette doesn't need to emulsify to do its job here.
Once your vinaigrette is finished, put your greens in a large bowl and add most, but not all of your vinaigrette. Toss your greens and go ahead and plate them up.
Spoon your asparagus and ramps over your greens, leaving room for your duck livers.
Get a large saute pan hot over high heat for a few minutes. Once hot, go ahead and add a few drops of oil to the pan. Add your duck livers to your pan, being careful not to overcrowd and lose too much heat. If the pan is not hot enough, we likely won't get any browning on our livers, and we want that.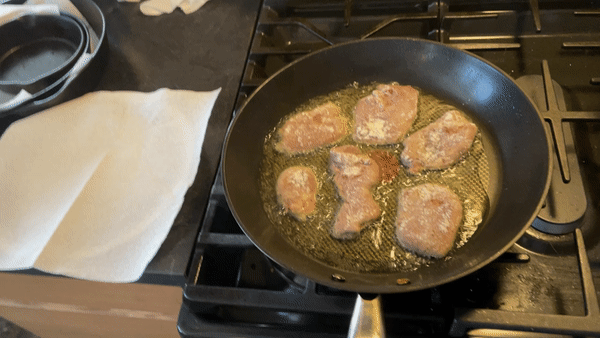 After a couple minutes your livers should be brown, you can carefully flip them over and continue to sauté for another minute or two.
Once you have all of your livers cooked and properly browned, go ahead and place them atop your salad greens.
Sprinkle a little goat or fetta cheese over the top, and drizzle the rest of your dressing over your livers and goat cheese.