Food Friday: Celebrating the Pabst's 125th, Menu by Menu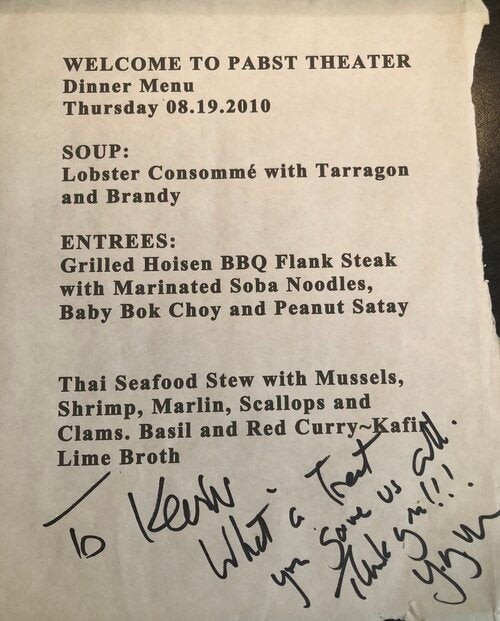 As the Pabst Theater Group celebrates the 125th anniversary of our beloved mothership theater, the Pabst, I took a minute to stroll through some of my favorite memories, menus and moments of cooking for the many artists who have played at the Pabst over the last 10 plus years I've been here. There are so many fun moments to cherish in that time that it was hard to whittle it down to just a few.

I think the one moment that most stands out, though, is when I had the opportunity to cook for, meet and then listen to the world famous cellist Yo-Yo Ma.
First off, I feel like the theater, with its ornate structure and beautiful acoustics, was built with the sound of a cello in mind. And nobody can unleash the sound of a cello quite like Yo-Yo Ma. The concert sounded amazing and stuck with me for days afterward.

The other aspect was knowing that this man travels the world, playing in some of the largest cities, and has probably tasted culinary offerings by some of the best chefs in the world. I figured he had a pretty refined palate and I was a little nervous to disappoint.

Choosing an appropriate menu was not easy, but I zeroed in on a few dishes that I thought he would appreciate. It turned out, he zeroed in on the lobster consommé that took me a few days to painstakingly prepare.

I was really happy with how it turned out, and as I watched him stand next to the service station and refill his bowl a couple times (he sipped the consommé right out of the bowl, sans spoon, exactly the way I would have), I was thrilled with his reaction. After watching me gawk for a few minutes he walked over and asked if I was the one who prepared the consommé. I said yes and we chatted for a bit. He asked about the procedure and what flavorings I used. It was a glorious conversation and I asked if he would sign a menu for me. He gladly obliged and we chatted for a bit longer before he started preparing for his set.

As I mentioned, the number of talented artists I've been able to feed at the Pabst Theater over the last decade is almost countless. Along with the Yo-Yo Ma menu, here a few other special menus that I have had the pleasure to prepare along with our amazing hospitality staff.
Here's to 125 years of existence, Pabst Theater. Cheers to you!