Food Friday: Feelin' (Chile Verde) Saucy!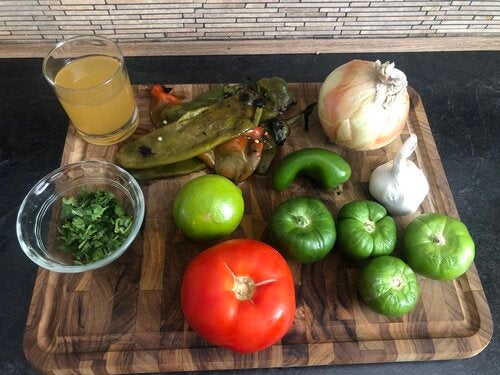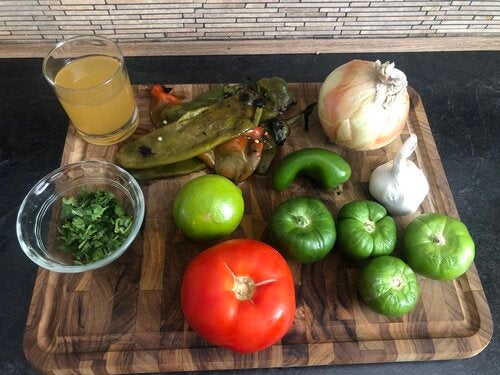 For this week's #FoodFriday, we're heading southwest - to Hatch, New Mexico specifically. Of the many regional, seasonal ingredients we enjoy here in the US, Hatch chiles are likely my favorite, right up there with Wisconsin morel mushrooms in spring. Every August, farmers in the Hatch valley start pulling their peppers to send out to anxious customers. It's rare to see these specific chiles outside of the southwest; usually, the rest of us have to be content with Poblano or Anaheim peppers. Not that there's anything wrong with those peppers, but much like pinot noir grapes from the Willamette Valley in Oregon have a special taste to them, so do the peppers grown in the Hatch valley of New Mexico. A buddy of mine, who also used to live in the southwest, ordered them online directly from a Hatch valley farm and had them shipped. We split an order of 10#'s of medium heat chiles and 10#s of hot varieties. They are highly perishable, so shipping is almost always overnight. Once you get them, it's a good idea to get them roasted, peeled and refrigerated as soon as possible.
I once lived in Albuquerque, and around this time of the year you'll see large barrels all over the city with flames underneath to roast the chiles. The smell is amazing, much like Milwaukee in summer with the smell of backyard grilled brats, etc. floating through the city.
In lieu of a roasting barrel, a grill does the job just fine. I usually put the peppers in a large bowl and toss them in a little oil, then turn them on the grill until all of the skin gets charred. Once that happens, set them in a covered container for 5 - 10 minutes and let them steam. After they cool, the skin comes off pretty easily, so peel away (preferably with gloves on)!
So now that we've got our chiles roasted, peeled and ready to go, what's the best way to use them?
There isn't a bad way, to be honest. Usually when I get mine in, I put them on almost everything until I run out. They are great in an omelette or scrambled eggs or cheesy hashbrowns. Amazing on a cheeseburger. I love making green chile and roasted corn stew, and I certainly love pureeing them into a sauce.
This week, I'll be focusing on the verde sauce I like to make with my chiles. Again, you could sub Poblanos for the Hatch chiles here and it will still be good - just not quite AS good. Tonight, I'll be smothering some enchiladas in this sauce, but you could use it to sauce a chicken breast, steak, grilled salmon or as a base for a soup, so play with it however sounds good to you.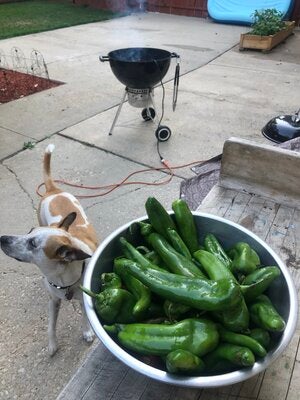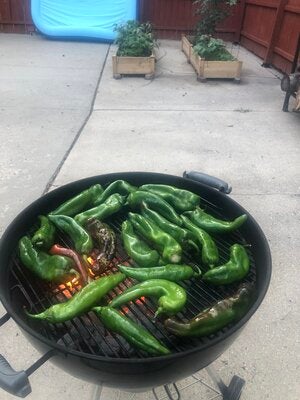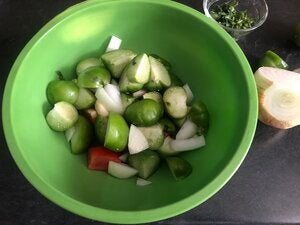 Chile Verde Sauce
INGREDIENTS
6 Hatch green chilies or Poblano peppers
6-8 tomatillo
1 large tomato
1/2 jalapeño
1/2 onion
2 cloves of garlic
Juice of 2 limes
2 cups chicken stock
Cilantro to taste
Salt, pepper and ground cumin to taste

PROCEDURE
1. Cut your chile/poblano, tomato, tomatillo, onion and jalapeño into rough cuts and put in a large bowl. This will be pureed, so no need to be exact with your cuts.
2. Add your garlic cloves and coat everything in the bowl with cooking oil.
3. Take a thick-bottomed pot or sauté pan and put it over high heat for 3-4 minutes. While your pan is heating up, juice a couple limes, and get two cups of chicken stock ready and some cilantro ready.
4. Now that your pot is ready to go, add everything in the bowl to your pan. If it's hot enough, you'l need to keep things moving with a wooden spoon. We want to get some color on everything, which should happen after 3-4 minutes. Once you see some caramelization, add your cilantro, lime juice and chicken stock. Turn the heat to low and let simmer for 15 minutes.
5. Now is a good time to grab your immersion blender. You can plug it in, put the blade right in the pot and blend it into a sauce. I'm working with a regular blender in my home kitchen, so I let my ingredients cool (that's important!), then I puree everything in 2-3 batches.
The vegetables will act as a natural thickener, but if your sauce is too thick, feel free to add a little stock to get it to the consistency you would like. Once your sauce is done, season with salt, pepper and cumin seed to your taste.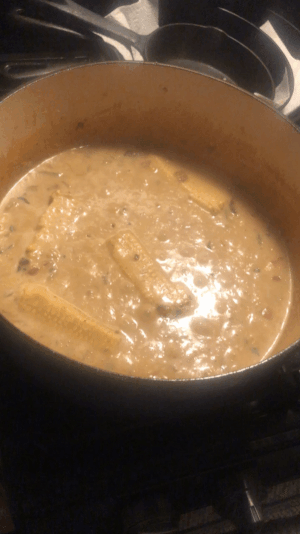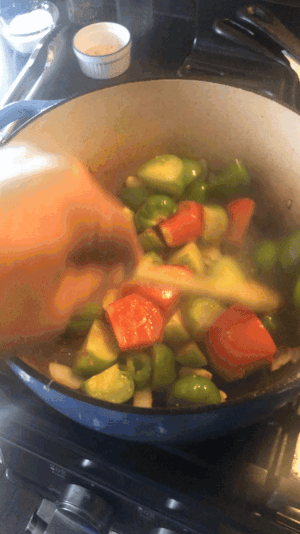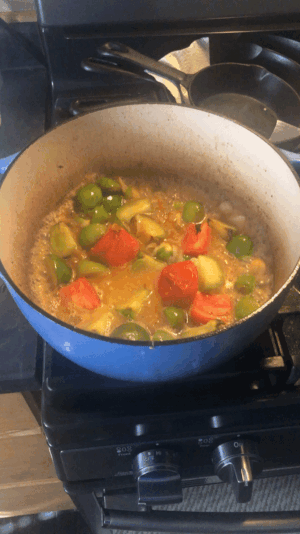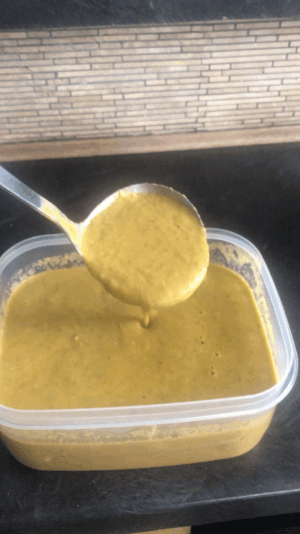 Enjoy! - Chef Kevin