Food Friday: Roasted Cornish Hen with Spaetzel and Rotkohl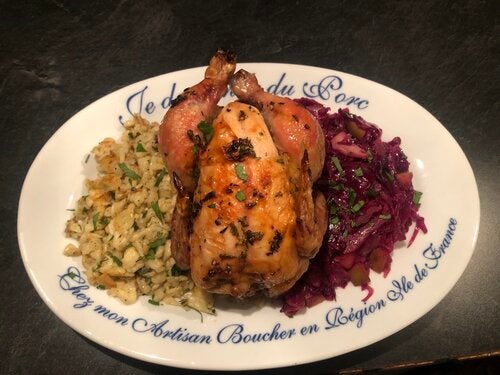 As we find ourselves in the middle of a most unusual holiday season, I was inspired to put together a post to highlight the normalcy of my favorite and time tested holiday meal. My mother, a first generation German immigrant, prepared this meal in some form or another for our family for Thanksgiving or Christmas since I can remember.
When I was really young, she knew a man that she would buy a whole duck, sometimes a whole goose, from; which she would prepare. After he passed away, she started using Cornish hens instead.
Either way, preparing a whole bird just yells holiday cuisine to me, so I've carried on my mom's tradition of roasting Cornish hens during the holidays, almost always served with rotkohl (pickled red cabbage), and some form of dumpling. Today, we'll be doing a fresh herb and black pepper spaetzle. Of course, when it comes to Thanksgiving or Christmas, there are usually a few more sides and bells and whistles added to this meal, but the constant remains the 3 ingredients we are going to focus on today. So without further ado, I present roasted Cornish hens, rotkohl and fresh herb and black pepper spaetzle.
Let's start with the spaetzle, as the batter will need to rest for an hour.
What you'll need:

1 cup of flour
1/4 cup of milk
2 eggs
Salt and freshly ground black pepper
2 oz butter
Boiling water
With a whisk, combine your eggs and milk, in another bowl combine your flour, salt and pepper. Then stir in your egg/milk combination to the flour while you whisk. Keep mixing until the mixture is smooth and free of lumps. When finished it should have the texture of thick pancake batter. Place in the refrigerator for 1-2 hours.

Fill a pot with 3-4 inches of salted water and bring to a boil. If you have a spaetzle maker (similar in shape to a mandoline slicer board with holes in it) pull that guy out. If not, you can use a pasta strainer as you will see below. Put your strainer over the boiling water and use a flat wooden spoon to push the batter through the holes. After a couple minutes your dumplings will float, and you can scoop them out and set in ice water. When all of the spaetzle is in the ice water, drain thoroughly, pat dry with a paper towel and set aside.
When you're ready to serve the spaetzle grab a pan, if you have cast iron that's a good option. Put your pan over high heat and allow to get hot for a couple minutes. Once your pan is nice and hot, add 2 tablespoons of butter, once the butter melts, which it should quickly, add a handful or two of your spaetzle. Occasionally you want to move your dumplings around with a wooden spoon, but not constantly as you'll want them to brown a little. They should brown after a minute or two if the pan was hot enough. Add some fresh chopped parsley and a little more fresh ground pepper. Set aside until you are ready to serve.

Now, the Cornish hen:

What you'll need:
1 Cornish hen
2 oz melted butter
Chopped herbs of your choice (I used thyme/rosemary/sage)
Salt and pepper
Procedure:
Take the hen out of the packaging and rinse with a little cold water, then pat dry with a paper towel. Melt the butter in a ramekin in the microwave, once melted add the chopped herbs and plenty of salt and pepper. Rub the butter/herb mixture inside and out of the hen. You don't have to truss the bird, but if you have some kitchen twine, now is a good time to put it to use. Preheat your oven to 430 degrees, and add the hen. It usually take around 40 minutes at that temp, at which point the skin should be golden brown. If you have a thermometer, you are looking for around 160 degrees, as it will continue to cook after it's removed from the oven. Allow to rest for 10-15 minutes before serving.




Now, the rotkohl:

What you'll need:
Half a head of red cabbage, or a whole head if it's petite
1/2 onion, julienned

1 cup diced apple
1/2 cup red wine vinegar
1 T sugar
A pinch of ground cloves

Salt and pepper
2 T bacon fat

Procedure:
Shred the cabbage and set aside, ideally it's thin and somewhat uniformly cut. Slice the onion and dice up your apples.
Put a large pan over high heat and allow to get hot, about 1-2 minutes. Add the bacon fat followed by the onions. After the onions have cooked for a minute add the cabbage. Sprinkle the sugar the cabbage as you stir. Add the apples and then the red wine vinegar. Turn the heat down to medium low and allow to cook for 5-6 minutes as you stir. If you need to add more liquid feel free to use water or stock. Finish by seasoning with salt, pepper and cloves.
Plate and serve. It's a holiday meal that never disappoints!