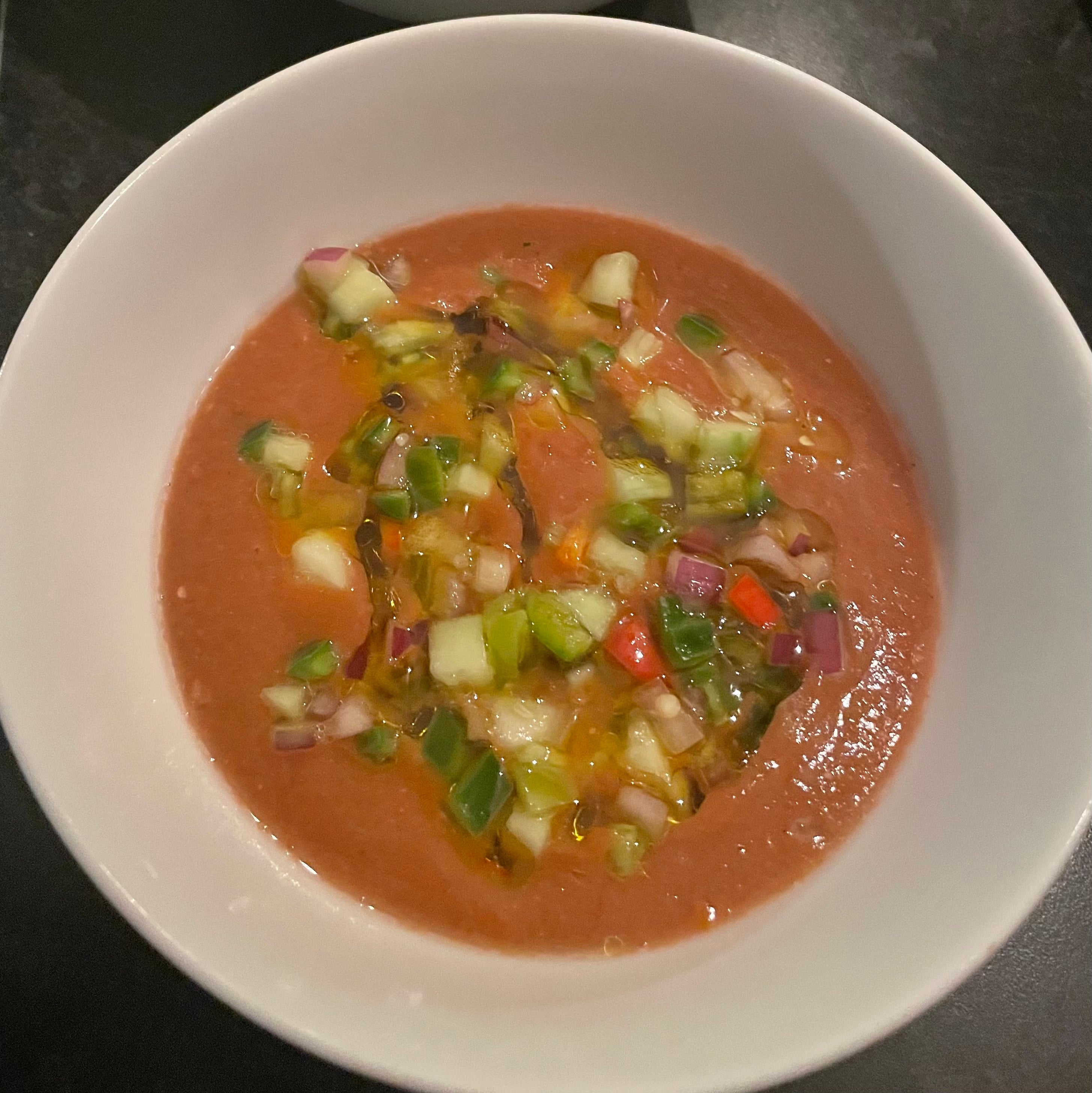 For this week's Food Friday, we are going to let the ingredients do all (well almost all) of the talking.
Between my garden boxes in the backyard and a quick stop at a farm stand, we've managed to gather together a perfect haul for a batch of Gazpacho!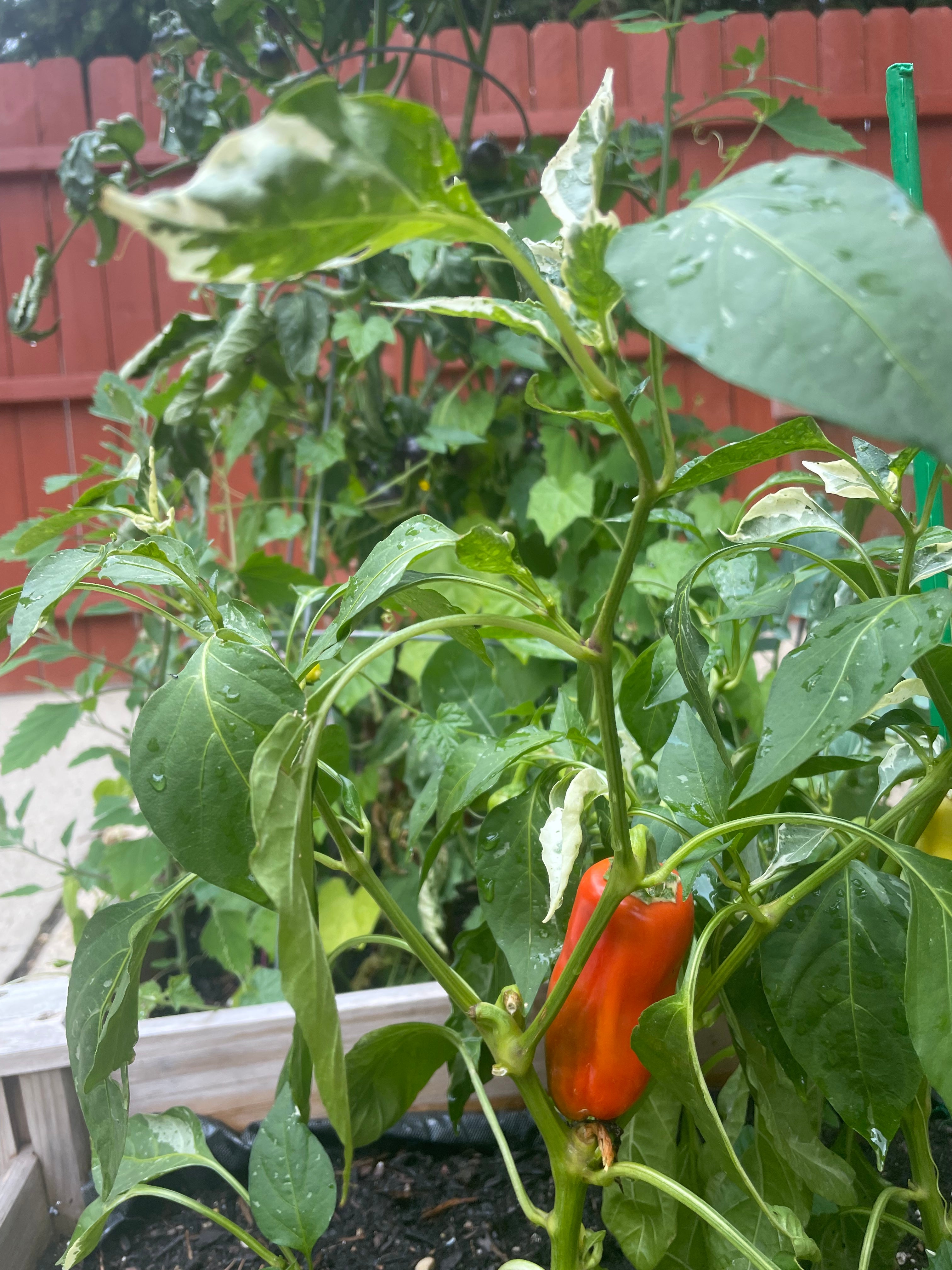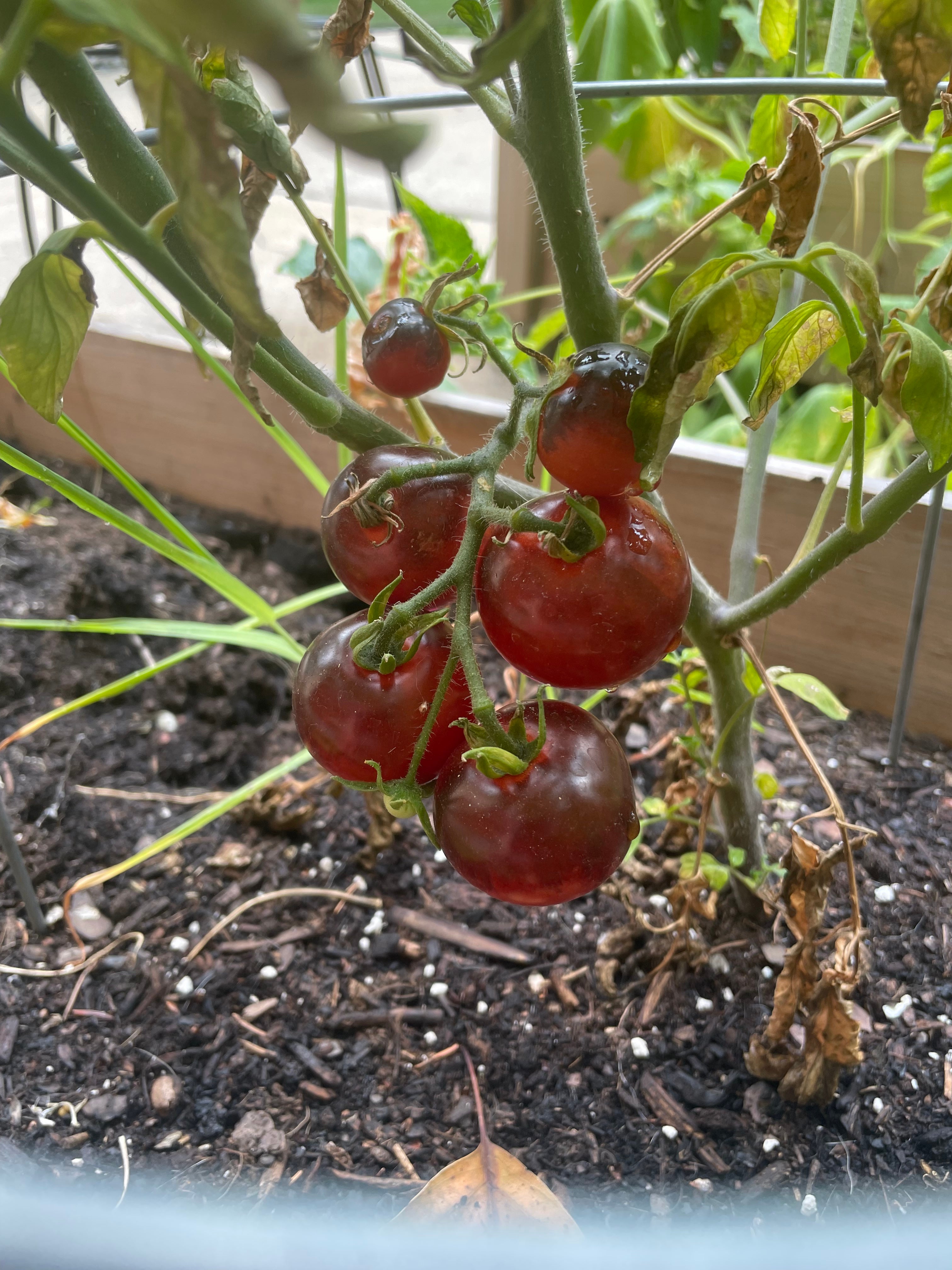 And seeing as we are in the balmiest time of the year, my favorite chilled soup recipe is just the thing I wanted to share with everyone.
I mentioned to someone the other day that I've likely not made the exact same batch of gazpacho twice. There are different combinations that can be used with vegetables, vinegars and thickening options (bread is traditionally used for this in Spain).
Although there is some technique involved, a great gazpacho is all about the ingredients. I don't usually find myself making gazpacho outside the months of August and September. Not just because a cold soup is nice when it's warm out, but because August is when tomatoes and peppers start to show up in the garden or at the farmer's markets. Using the store bought roma tomatoes that have been in storage for weeks or more likely won't yield delicious results here. So, hit up your favorite farmer's market, or your backyard garden, and give this recipe a whirl. There's no better time than the present.
There are two parts to this process. For the soup, you're going to puree some tomato, cucumber, peppers and garlic. The peppers are usually different each time for me. Green and red bell peppers absolutely work here. I had a couple spicy banana peppers in the backyard too, so I tossed one in for a little zip.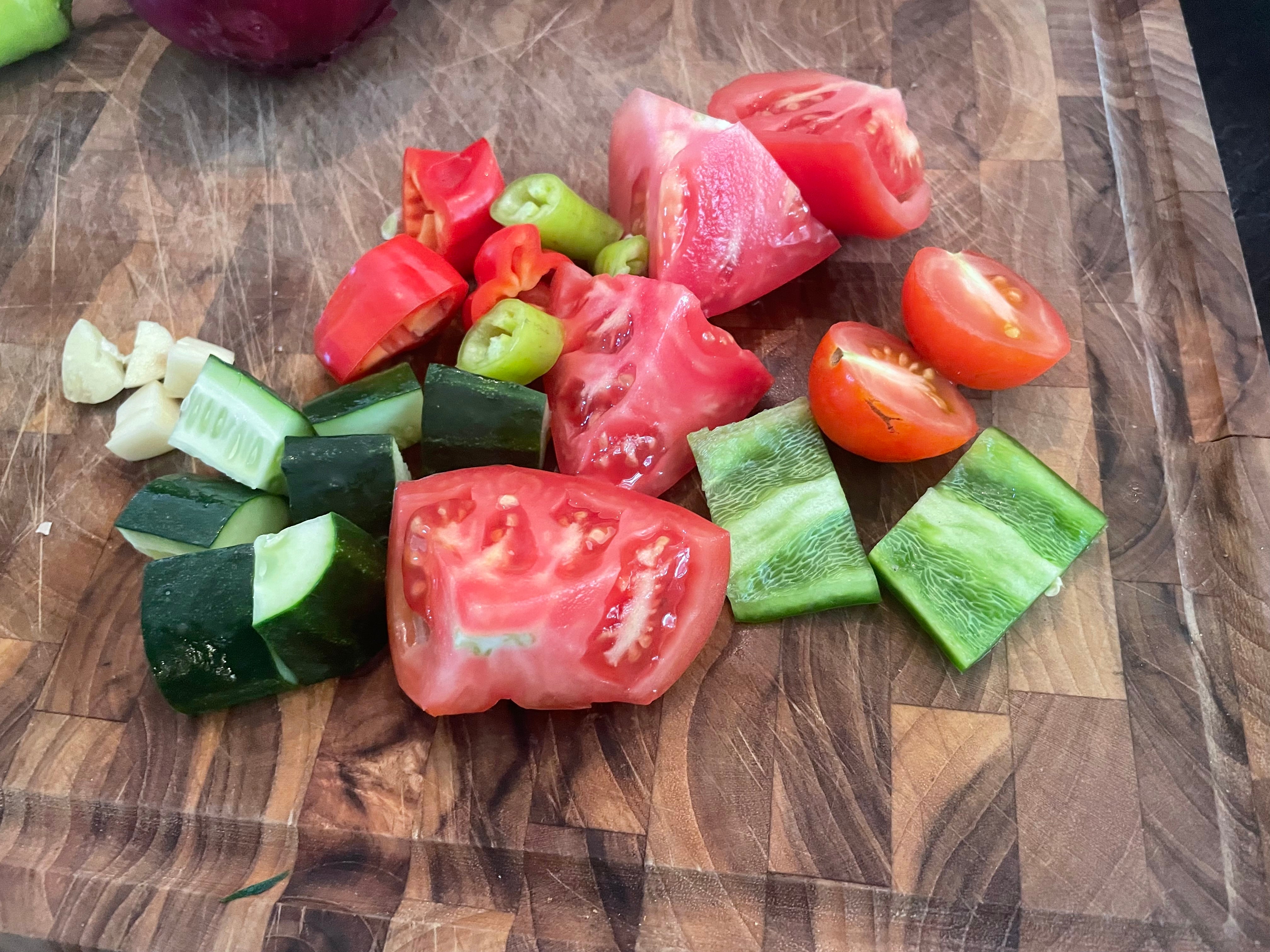 The other part is taking some of those same vegetables and chopping into a nice brunoise, to provide a little texture as a garnish.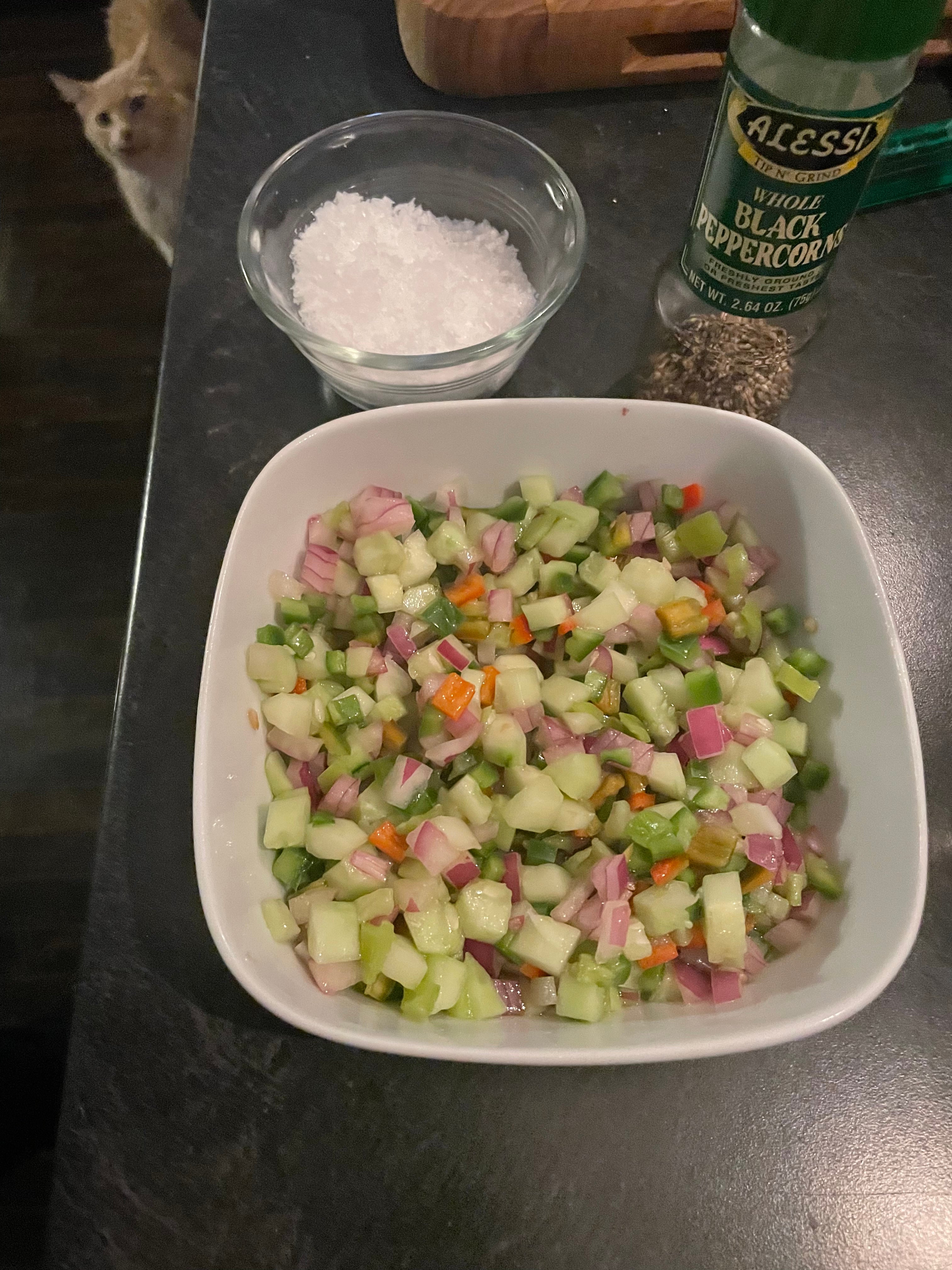 What you'll need:
Yield - 1 Qt.
2 lbs fresh, local tomatoes cored and cut into chunks
1 spicy pepper of your choice (cubanelle, banana pepper, or poblano)
1 green bell pepper, cut half into large chunks and reserve the other half
1 red bell pepper, cut half into large chunks and reserve the other half
2 medium to small sized cucumbers, peeled, halved and seeded
¼ of a red onion
2 garlic cloves
Red wine vinegar (sherry vinegar or even balsamic works here too)
High quality extra virgin olive oil
1 small (6oz) can of high quality tomato sauce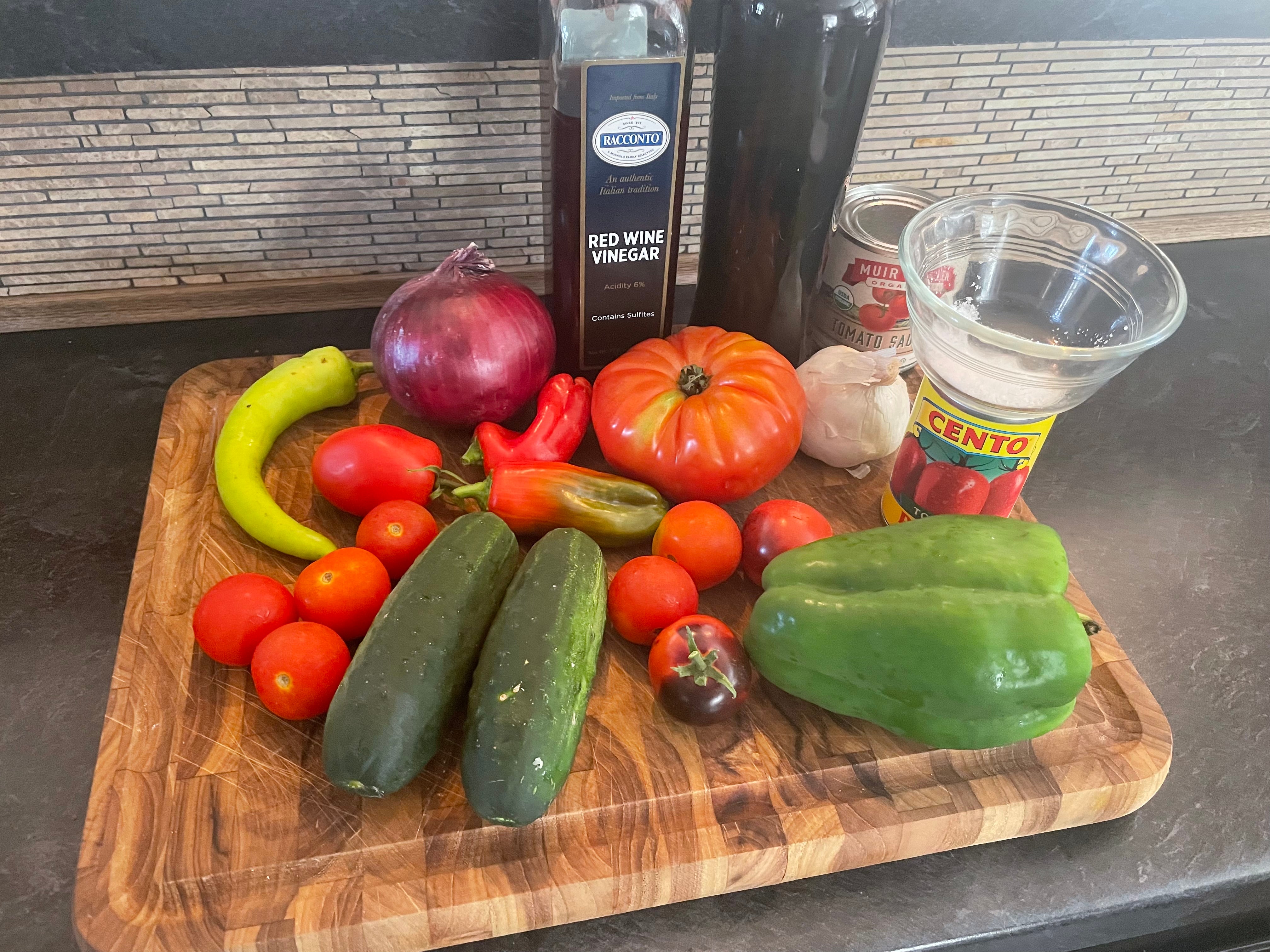 What you'll do:
- Take all of your tomatoes, one of your two cucumbers and half of the green and red bell pepper that you cut into chunks and add them to your blender.
-Put garlic cloves in a small strainer and rinse them for a minute under hot water, then add to the blender. (This will help remove the bitterness).
-Add a couple shakes of your red wine vinegar and a pinch of sea salt to the blender. Cover tightly and puree for a minute or two until your tomatoes and vegetables are a smooth puree.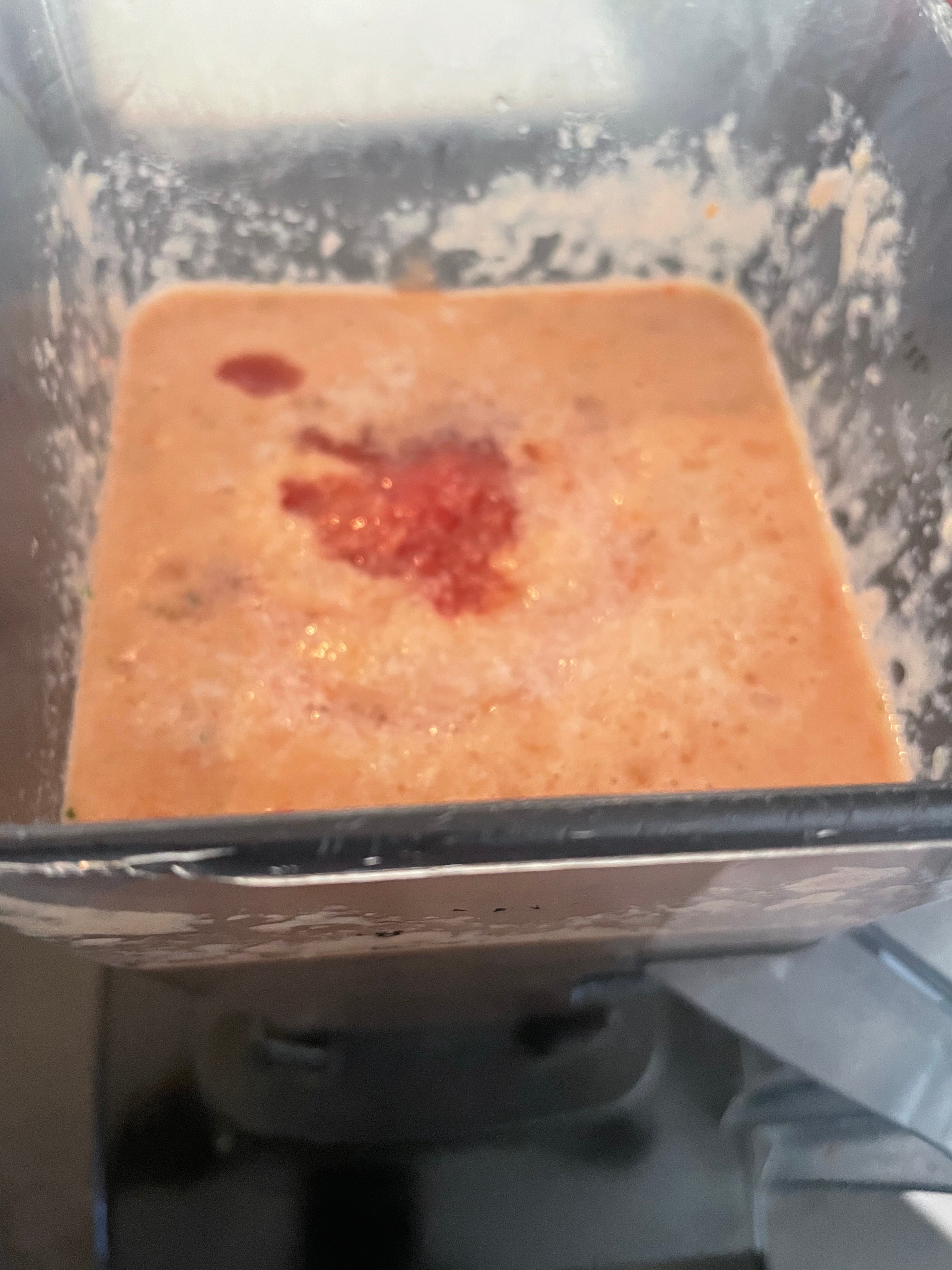 - Empty your mixture into a bowl and whisk in the canned tomato puree. I do this to help stabilize the soup, as sometimes the tomatoes can be a little watery. This will help to combine everything and thicken. Once you've stirred in the tomato puree, taste for seasoning. Feel free to add a little more vinegar or sea salt if need be. You'll drizzle a little of the extra virgin olive oil over the top when you serve.
- Take the rest of the vegetables and break them down with your knife into a bruniose, or a very small dice. Take your time and try and make sure they are all roughly the same size.
- After you're finished, put all of the chopped vegetables in a bowl, add one shake or a teaspoon of the red wine vinegar, a tablespoon of the extra virgin olive oil and a pinch of sea salt. Stir to combine and refrigerate along with your soup.
I like to chill a couple of bowls in the freezer before I serve. After your gazpacho has had an hour or two to chill in the refrigerator, you can serve at your convenience.
To plate, I pull out my chilled bowls, the soup and the vegetable garnish. Ladle the soup into the chilled bowls, and add a couple spoons of your diced vegetables.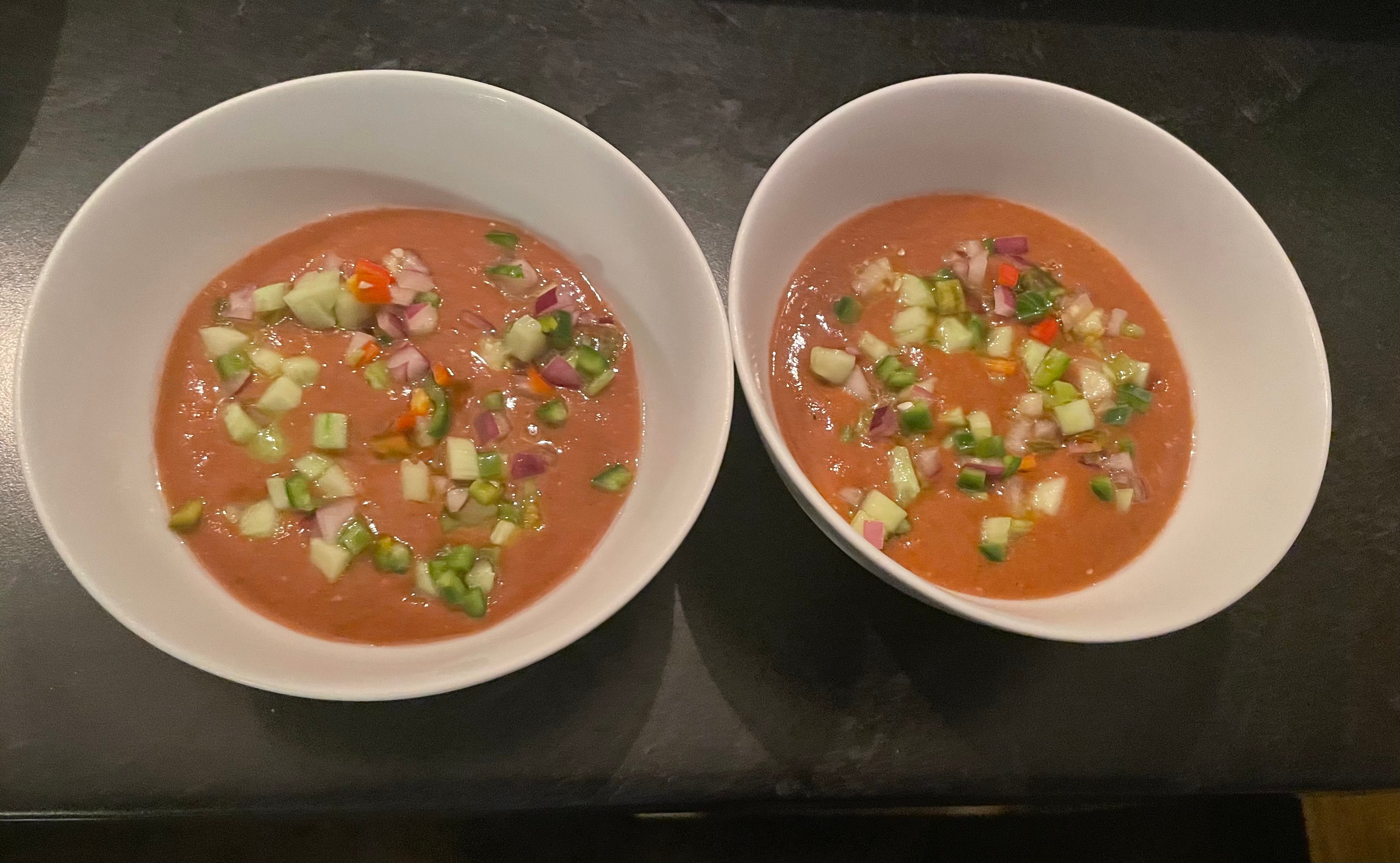 To finish, I like to drizzle a little of the olive oil over the top. If you have some fresh herbs handy, like chive, oregano, mint or basil, they will all play nicely if you are in the mood.
Enjoy and stay cool!