Pulled Beef Short Rib Sliders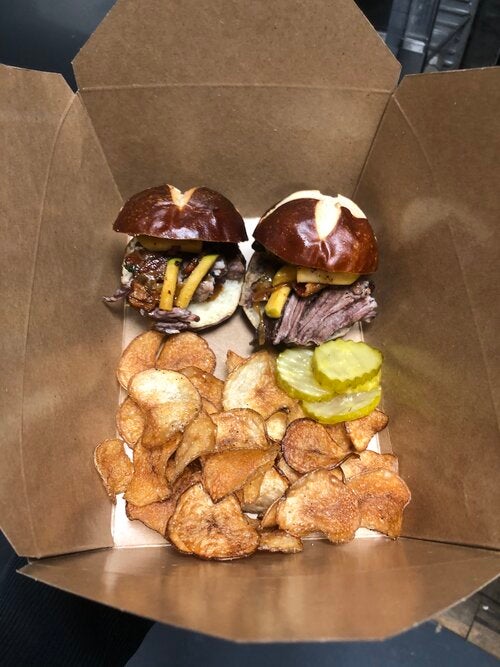 This was a fun and exciting week for those of us at the Pabst Theater Group, after being mostly inactive for the last year, we bounced into action upon learning CNN would be hosting a live town hall event with President Biden in our very theater.
The event was broadcasted live this past Tuesday, but the production crew for CNN, of which there were many, came into town to start setting up nearly a week prior to the television event, and it was our job to feed them.

Because our staff is rather thin at the moment we thought it would be a good idea to share some of the burden of feeding 100 people per day with some of our local restaurant partners who are still in motion doing take out meals for the public. It was great to coordinate and execute the many meals we needed, with some of our talented friends. We want to send a big thank you to Goodkind, The Tandem, DanDan, Meat on The Street, Egg & Flour Pasta Bar, Confectionately Yours, Allie Boys Bagelry & Luncheonette, as well as our own Julie's Pastries for providing some amazing meals for our friends at CNN.

It was nice too, to cook a few meals out of our kitchen at the Riverside Theater and knock some rust off our Sabatiers.

We were tasked with providing nearly 100 meals immediately after the event…so we did.
For this week's Food Friday, I will focus on the pulled beef short rib sliders. Note the apple~bourbon relish, which is more of a marmalade, is a great accompaniment to almost any piece of meat or fish that you cook up regularly at home. I used it to top off some shredded beef short ribs that I braised for a few hours, then pulled for use with our pretzel buns. The relish comes in equally as handy atop a chicken breast, a piece of grilled salmon or even a roasted pork loin, so have at it!
We were cooking for 100 people on this day, but I will guide you through preparing this for a meal at home. For our short ribs, I got a large pan nice and hot. Seasoned my short ribs, browned them all, and removed them from the pan. I added some chopped onion, garlic and carrot, sauteed those for a couple minutes then reintroduced them to the pan.
At this point I added some beef broth, covered the pot and sent it in the oven at 375 degrees for about two and a half hours. Set your short ribs aside and reduce your cooking liquid by half, set aside. After about an hour of cooling, I pulled/shredded all of the short ribs and set aside.
For the apple~bourbon relish you will need:
1 tart apple, granny smith works great
3-4 strips of bacon cut into pieces
1/2 onion, julienned
1/2 cup short rib cooking liquid or beef/chicken stock
1/4 cup of brown sugar
2 oz of bourbon
Cut your apple into matchstick type slices, set aside in a container. In order to prevent browning, cover with some water and some citrus juice, or a little bit of white soda.
Take a medium sized saute pan or pot and set over medium-high heat. Add your bacon and move around with a wooden spoon until completely rendered and crisp.
Pour out about half the bacon fat and save for another use. Add your onion and saute for a couple minutes until they are translucent. At this point turn your flame all the way off, that's important if you want to keep your eyebrows, so turn the heat all the way off and add your bourbon. Tilt yourself back a bit as you turn the heat back on. The pan will likely flame up which is fine.
Once the flame goes out and the bourbon is almost all the way reduced, add your 1/2 cup of stock. Still on medium heat, reduce the liquid in the pan by half. At this point we can add our brown sugar and stir that in until completely dissolved. You want the liquid to be syrup like, so if it's there, you can kill the heat. If it's still a little runny, feel free to reduce for a few more minutes.
After the heat is turned down, stir in the apples until they are coated with the liquid. I like to let the apples sit in the liquid, with the heat off for a few minutes. You don't want to over cook them, which is why you have the heat turned off. At this point add a little salt and pepper, if you have some fresh parsley feel free to chop some up and add it in.
With our relish/marmalade complete, we toasted some pretzel buns, added some of the shredded short ribs to each but, then slathered the relish over the top. We made some homemade potato chips for this rendition and garnished with some sweet and spicy pickles. Enjoy !