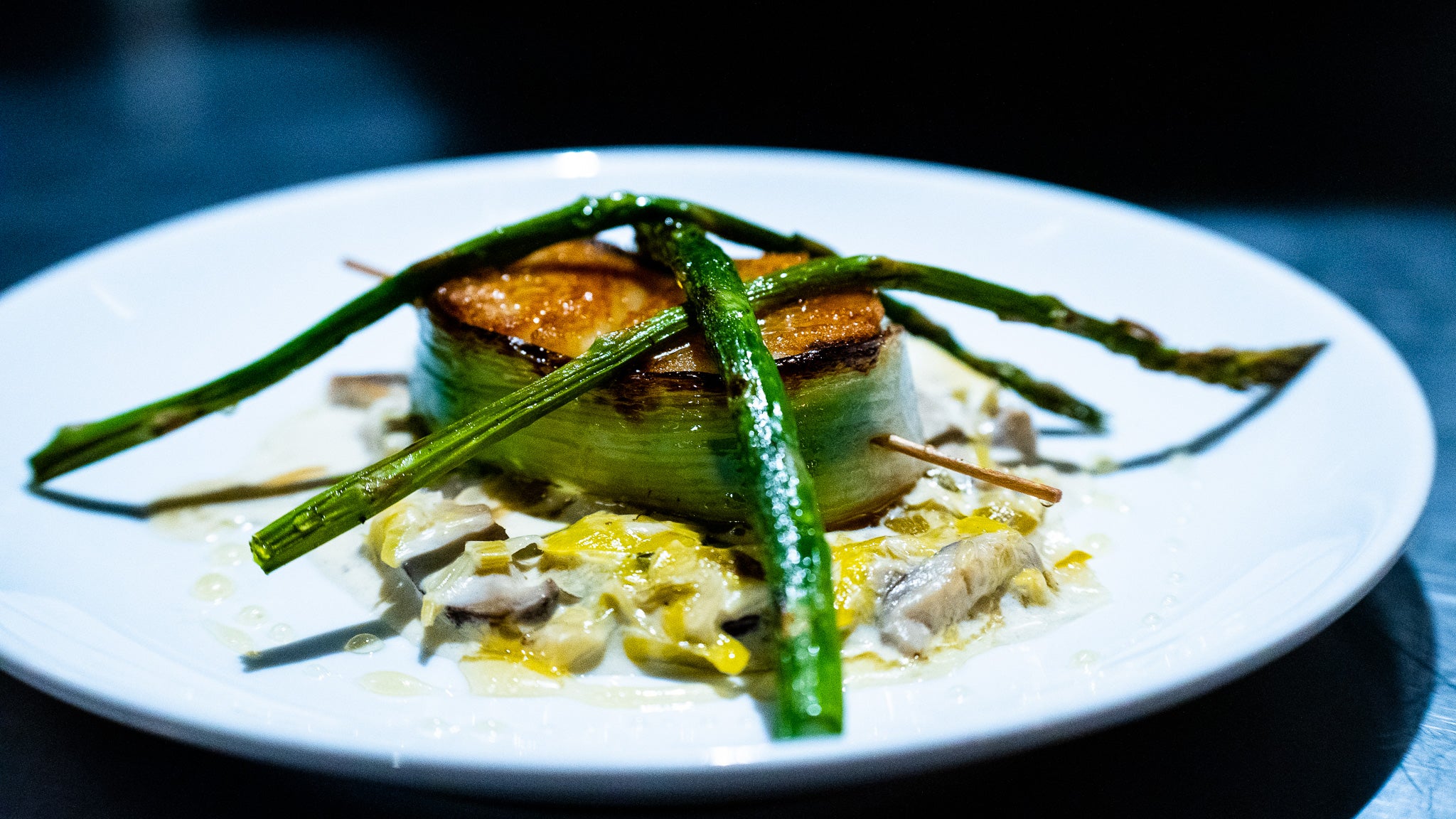 Seared Sea Scallops - Riot-grrrl Style
Last Wednesday, Bikini Kill finally ignited the Riverside Theater stage, 1,000+ days in the making. After announcing a limited run reunion tour (the first since 1997) in 2019, the show persisted through two postponments (oh hey, pandemic) and one venue change. The performance was cathartic; an exocism of four years worth of rage against the pandemic, politics and every other reason why their protest songs are still as revelant today as they were back then.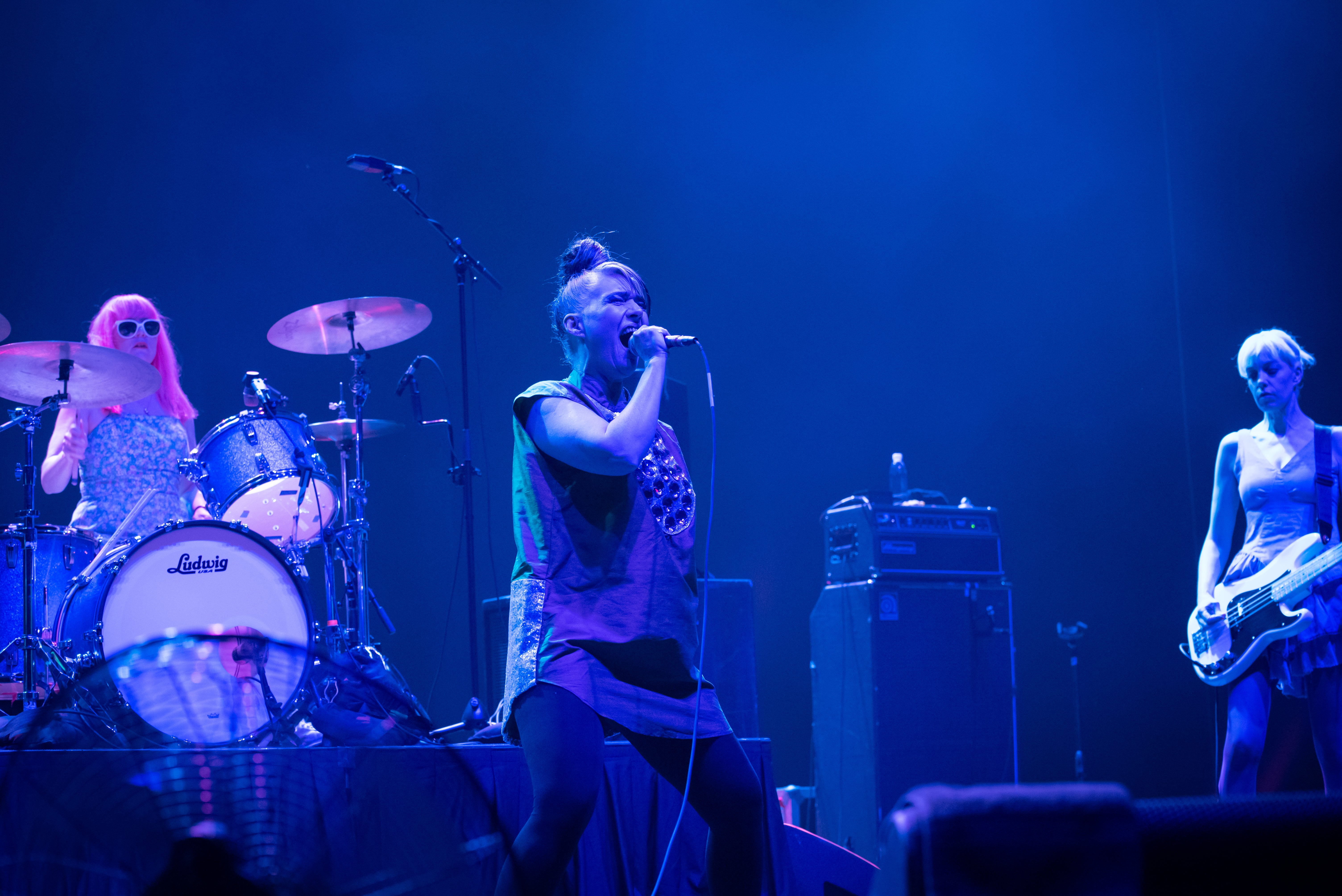 Prior to the rage on stage, the green room at the Riverside was calm and welcoming as Chef Kevin served up seared sea scallops with leek and shiitake confit - a recipe that can be easily recreated for an elegant dinner at home.
Seared Sea Scallops with Leek and Shiitake Confit - Serves 4-6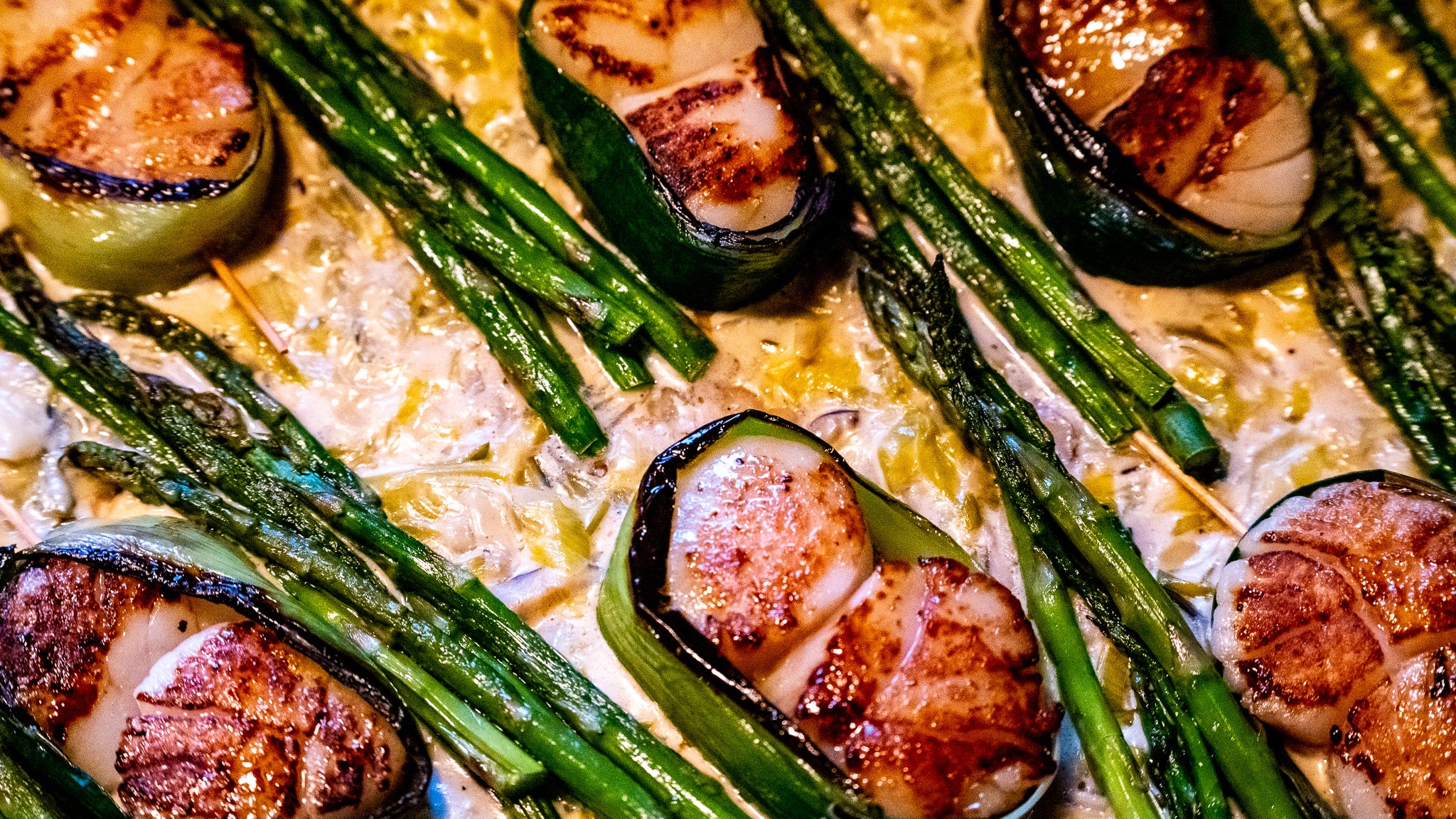 What you'll need:
Sea scallops (3 per person usually fits the bill)
6-8 leeks, depending on size
1 dozen shiitake mushroom caps
1/2 cup white wine
1/2 cup dry sherry
1/4 lemon juice
1 cup heavy cream
What you'll do:
Confit:
Remove the dark green tops of the leeks, about the top 4-5 inches, and set aside. Half the remaining lower parts lengthwise, then slice thinly on a bias (cutting diagonal).
Soak the in cold water to remove any dirt, then drain.
Remove the stems from the shiitake mushrooms, and thinly slice the tops. Add the mushrooms to the sliced leeks.
Allow a large saute pan to preheat over a high flame for 2-3 minutes. Add a couple drops of canola or vegetable oil and then add the leek and mushroom mix. If the pan is hot enough, it should make a pretty loud hiss when the ingredients hit. Stir consistently with a wooden spoon for about 3-4 minutes over high heat. When the leeks start to wilt, add the white wine, sherry and lemon juice. Allow that to reduce over high heat for another 2 minutes, then turn the heat to low and add the heavy cream. Allow to reduce over a low flame for an additional 5 minutes or so until texture is creamy. Season with salt and pepper.
Scallops:
Allow a cast iron pan to preheat over a high flame for 2-3 minutes. Add a couple drops of canola or vegetable oil and, after seasoning your scallops with salt and pepper, add them to the hot pan. The goal is to acheive a nice brown caramelization, which in a properly heated pan should only take 2-3 minutes. Use a spatula to flip the scallops and turn off the heat completely on your pan. Allow the scallops to sit for another 2 minutes in the pan. While the scallops sit, plate a nice spoonful of the leek and shiitake mixture. Set the scallops on top of it.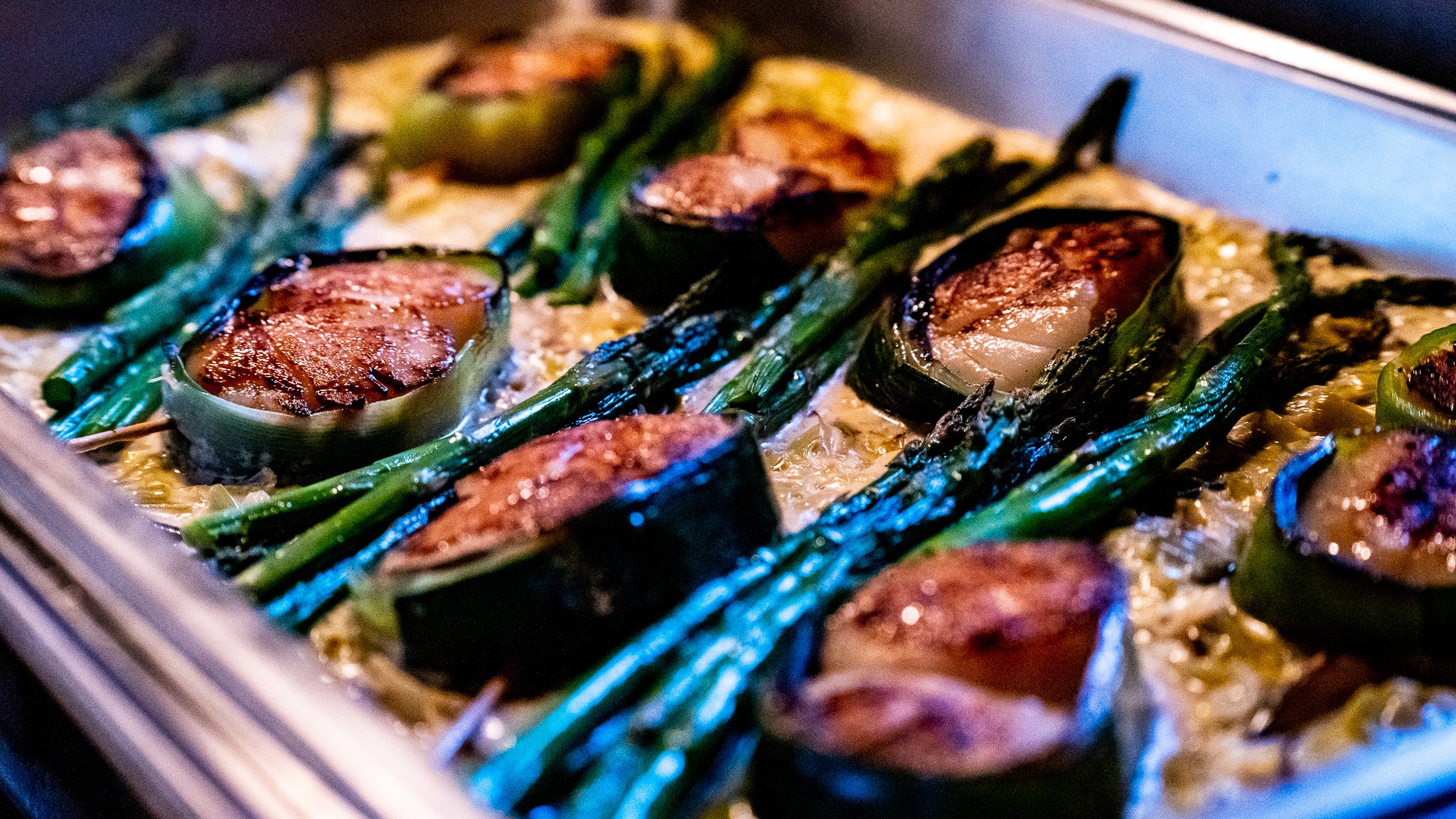 Optional tip for presentation:
For an elegant scallop wrap, take the green parts of the leeks that were removed and blanch them in salted boiling water for 2 minutes, then remove and put in ice water to cool. Use a bamboo skewer fasten the wrap and keep it attached to the scallops.
Garnish:
As all of the above is pretty soft in texture, it's nice to add something with a bit of a crunch to the dish. Al dente asparagus is a nice touch, but feel free to get imaginative with it.
Sauce:
A sweeter sauce, usually something involving a balsamic or port reduction, goes well with this dish. In this case, Chef Kevin mixed a couple drops of white truffle oil with some honey and drizzled it over the top.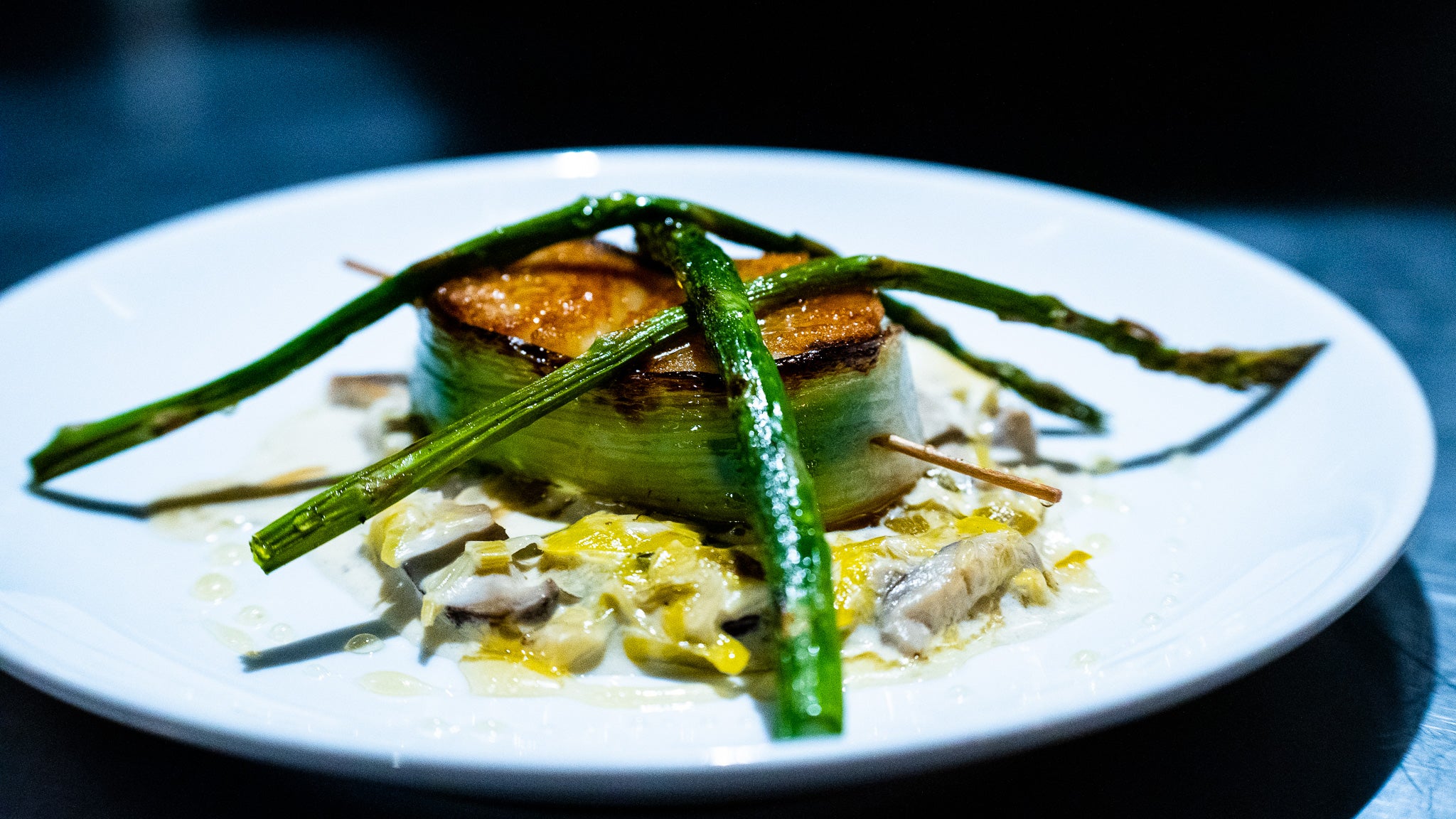 Here's a peek at the full menu and a few other items that rounded out the evening.
Bon appetit!